Social & Emotional Learning (SEL)
Lessons from Star Trek: Forging a New Path in Our Schools
A valuable lesson that comes from the Star Trek television series is that social, emotional, character, and intellectual development are inextricably interconnected.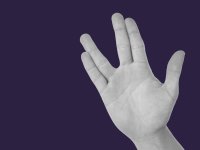 Many educators in schools with low socioeconomic status (SES) and significant populations of African American and Latino students are in a no-win scenario. They focus tremendous time on math and language arts instruction, cut time devoted to other academic areas and specials, but still struggle to make meaningful improvements in test scores.
When they double down and devote even more time to test preparation and further narrow the curriculum, sustained results are rarely better.
Star Trek's Captain Kirk, then a Starfleet Cadet, found himself in a similar scenario known as the Kobayashi Maru, a training simulation in which a cadet would either attempt to save the occupants of a disabled freighter in the Klingon Neutral Zone -- and thereby be attacked and boarded -- or stay out of the Neutral Zone and consign the occupants to capture or death. Captain Kirk "cheats" and creates an alternate scenario, defusing the opposition and allowing him to save the freighter and preserve his rescuing vessel. For more about the Kobayashi Maru and its significance for leadership, read this Forbes.com article.
The ability to forge a new path in a no-win situation has come to be known as finding a Kobayashi Maru solution. And it's time for educators to learn this lesson from Star Trek.
Social-Emotional and Character Development Is Essential
Devote 15 minutes of instructional time each day, every day, or a close equivalent, to systematic, multiyear, high-quality promotion of students' social-emotional and character development (SECD). The paradox of taking away this "academic" instructional time is that it will have the effect of making the rest of the instructional day more effective.
Students' emotional barriers to learning, and lack of learning-to-learn skills, act to weaken the impact of even the best curricular content being conveyed. Failure histories create lowered expectations of academic success that, for most at-risk students, serve as self-fulfilling prophecies.
The director of the Institute for Emotionally Intelligent Learning, Ed Dunkelblau, Ph.D., elaborates:
SECD creates new arenas for success, for valued expression, for sharing feelings, and for a renewed sense of purpose beyond test scores. Educators know that most standardized tests do not adequately reflect their students' true capabilities. Students are more than their scores.
Taking a Stand
The Kobayashi Maru, the lesson from Star Trek, is that social, emotional, character, and intellectual development and competence are inextricably interconnected.
It is a reminder, a call to action, not a revelation. Theodore Roosevelt said that educating someone in mind and not in morals was creating a menace to society; Martin Luther King, Jr. said that intelligence plus character is the goal of true education.
The Captain Kirks of education must stop doubling down on traditional academic instructional time and test preparation and instead devote instructional time to social-emotional and character development and its integration throughout the school day. The highest obligation of educators is to prepare students for the future life challenges they will face in college and in their careers, and to prepare them for a life of civic responsibility and participation.
Each day, educators, particularly those of high-risk children of color, face their own Kobayashi Maru. Taking the traditional path is no longer an ethically defensible choice. It is time to boldly go where too few educators have gone before.