Social & Emotional Learning (SEL)
A Teachable Moment: Anne Frank's Birthday
Lessons to learn from a young girl
On June 12, Anne Frank could have celebrated her 83rd birthday had she not died in a Nazi concentration camp. It's not a stretch to imagine that she would have been surrounded by loved ones, celebrated for her literary contributions, and acknowledged for her compassion and contributions to peace and justice. All of these qualities were evident in the now-famous diary that she wrote between the ages of 13 and 15 as she and her family hid in an attic. What would she have become? Who would she have become?
The questions are endless once we open to them:
What about the other six million Jews who perished in the Holocaust? How do we remember them? What does it mean to survive? How do we teach about the unimaginable, the indescribable? What about other genocides? How do we build empathy in our students? How do we empower them? How do we inform them of the tragedies in our world, and give them hope as well?
Teaching about the Holocaust raises so many issues. It can become scary and overwhelming.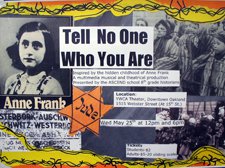 Credit: Elena Aguilar
Poster advertising the student play. (Click to enlarge.)
Some years ago, I taught with Davina Katz Goldwasser, an English and History teacher who engaged her eighth grade students in a lengthy study of the Holocaust. It culminated in a student production of Anne Frank's diary -- a two and a half hour adaptation, accompanied by music written and performed by students. The play is actually a staple of eighth grade literature study in our district -- it's in the English textbook.
Davina had a personal connection to the story of Anne Frank. Her father had escaped Nazi Germany as a child, along with a younger sister; the rest of their entire family perished at Auschwitz.
There was nothing easy for Davina about teaching this unit -- every one of her teaching capacities was stretched to the limit, as well as her emotional faculties. Students were asked to grapple with extremely challenging material, to consider the complex ethical questions that are raised by the Anne Frank story, (how far would you to go stand up for someone? What would you have done?) and to also memorize long passages of original text. The majority of Davina's students were English language learners, most had previously never heard of Anne Frank or the Holocaust, and although they'd taken a year of drama classes, the long hours of rehearsals pushed at the limits of everyone's patience and energy. Yet the final performance that her students did was one of the most moving and powerful student productions I have ever seen.
The quality of the production was phenomenal and was a result of a collaboration between Davina and her students and an art teacher, a music teacher and a drama teacher. But there was also a depth to the experience that was palpable but perhaps not visible because of the knowledge that the audience brought when they watched the show. Like their children, the majority of the parents had never heard of Anne Frank or the Holocaust. Davina recognized the need for parents and other students in our school to have some background knowledge before they attended the final performance. As part of their study that spring, Davina's eighth graders conducted Teach-Ins for parents and students on the Holocaust; they took books home and taught family members key vocabulary and events, so that when they attended the final production, their understanding and appreciation was much deeper.
What do these students -- who have now graduated from high school -- remember now about this production, I wonder? How did this impact their critical thinking, build their empathy and expand their historical understanding? How do they think about their own stories, their own writing, their own voice and contribution to the world?
Anne Frank was truly a remarkable young woman. Her famous statement, "I still believe, in spite of everything, that people are truly good at heart" challenges all of us and has inspired many. Her diary is an ideal teaching tool -- it opens countless paths for teaching and learning. It puts forth all the questions that we should be grappling with, that we should be raising with young people that they are already grappling with.
Resources:
Facing History and Ourselves offers exceptionally high quality professional development for teachers and piles of curriculum and resources for teaching about the holocaust, racism, anti-Semitism, and prejudice.
Larry Ferlazzo has compiled an extensive list of resources for educators, with special attention to resources particularly helpful for English learners.
Alexandra Zapruder's Salvaged Pages: Young Writers' Diaries of the Holocaust is an ideal supplement to Anne Frank's diary.
Lost: A Search for Six of Six Million, by Daniel Mendelsohn, is a phenomenal memoir that's accessible to high school students but is also an essential read for anyone teaching about the Holocaust.