Communication Skills
Learning to Hook an Audience
The author's fifth-grade students practiced a variety of skills in order to make 25-minute verbal and visual presentations on their inquiry-based projects.
July 24, 2017
I work in fifth grade at a school in Germany with the International Baccalaureate (IB) curriculum, which promotes inquiry into conceptually connected ideas using transdisciplinary skills. This curriculum presents inquiry projects as a constructivist act of learning, for both the student and the teacher. The final inquiry project, called The Exhibition, occurs in fifth grade. Students spend eight weeks working in groups and inquiring into serious topics of their choosing, such as plastic pollution in our seas, or girls' struggles to access education around the world. The results of this inquiry are presented to the entire school community on the biggest night of the students' learning career thus far.
The presentation is around 25 minutes long, of which around 10 minutes is a formal verbal explanation of the learning process and key facts. The rest of the time is for the audience to browse the different outcomes of the inquiry: properly cited research, an English text of each student's choice—an explanatory or informational text, a short story, or a collection of poems, for example—an infographic of mathematical data and statistics, written work in the students' native languages, a related art piece, and more. The presentation is repeated several times over the evening, to reach a wider audience. This year was my first in fifth grade, and, with the guidance of Shawn Skalinski, an experienced teaching partner, I learned a great deal about how to polish presentation skills, both visual and verbal.
Visual Presentation Skills
Courtesy of Matthew Friday
The author's fifth graders were required to produce visual displays of their learning.
Shawn and I were inspired by infographics and how they can visually explain challenging concepts and information. We decided that each group should use one of their two large mobile display boards to present their own infographic. Here is how we did it:
Pick the biggest "wow" facts. Less is more.
Create an artistic, visual way to display the facts. For example: facts about addiction to smartphones were written on a smartphone template image.
Cross-reference the facts to make sure they are accurate and up-to-date.
Revisit art skills teaching: using complementary colors, careful drawing, cutting and mounting borders accurately, etc.
Organize on the board in a manner that is striking, legible, and neat.
Our 21st-century students were excellent at sourcing appropriate sources online and using technology, but they needed considerable assistance and time to practice the fine-motor skills necessary to complete steps 4 and 5.
Verbal Presentation Skills
We wanted to avoid a lecture-style verbal presentation and instead encourage interactivity and creativity. The students loved this prompt and devised creative solutions: setting up mock TV game shows, news reports, or chat shows, or using poetry and stories and music to draw in the audience. This naturally led to interactive quizzes and activities that required the audience to answer questions, express opinions, and move around the room. To achieve all this, we had to:
Write a script that plotted out the key information that all groups had to share as well as ensure a fair and equal distribution of the responsibility. This helped avoid a situation where a dominant student does all the presentation work.
Give time to collect and create interactive materials: publish stories and poems, prepare technology such as iPads and buzzers, etc.
Practice the presentation over and over again.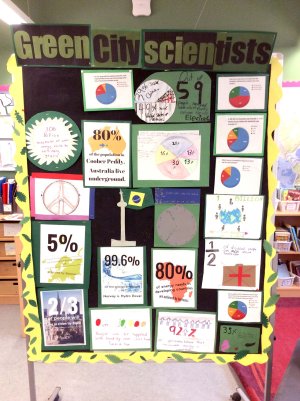 Courtesy of Matthew Friday
The students picked a few big data points to emphasize in their visual presentations.
Shawn taught me the importance of the third point. Awareness of audience, appropriate voice projection, and body language (what do you do with your hands?) are not skills that come naturally. The key to developing them is to have students practice. After learning their scripts, each group made their presentation:
To other fifth-grade groups, who gave constructive feedback so they could learn from each other.
To their teacher mentors for more detailed feedback.
To other student audiences throughout the school, from the youngest students to older students who had done Exhibition before.
Practicing in front of younger audiences was essential in developing confidence, finding new ways to communicate complex information, and adapting ideas for games and interactive activities.
Last-Minute Changes and Next Year
A day before the big event, we realized that there was a problematic gap between the formal 10-minute presentation and the informal 15 minutes of browsing the materials. The students did not know how to make that transition. The key was to go back to the idea of "hooking" the audience, something we had been focusing on a lot in our writing. Picking a more confident group, we asked them to persuade us to get out of our chairs and look at their materials, to sell them to us, being dramatic and proud of their work. It was part storytelling, part salesmanship, and the students loved it.
The Exhibition was a huge success. Shawn and our creative students and I exceeded the school's expectations of what was possible with 25 minutes, and we set a high standard I will have to try and match next year. It was a huge learning journey for me, and the biggest project of my career. I learned with the students and was guided by my own mentors; I created new meaning, skills, and understanding. This is the purpose and joy of the IB curriculum.