Project-Based Learning (PBL)
Integrated PBL Projects: A Full-Course Meal!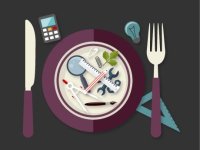 In the project-based learning field, we use the metaphor that projects are the "main course, not the dessert" (as coined in an article from the Buck Institute for Education). Projects are intended to create the need-to-know content and skills, and the opportunity for students to learn them in an authentic context.
When teachers first design PBL projects, they are often limited. In fact, I recommend that. Teachers and students must learn to become better PBL practitioners, so limited projects can lead to more ambitious projects. One of the criteria for a more ambitious project is to integrate the disciplines. This can be easy or challenging depending on your context, grade level, and schedule structures. However, if we want to challenge our students -- and ourselves -- we need to create "full-course meal" projects.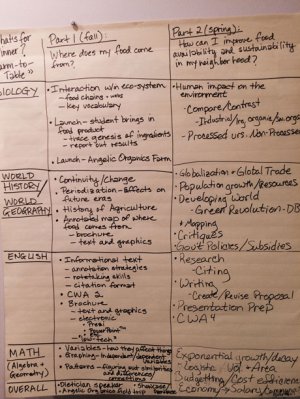 Photo Credit: Andrew Miller
Teachers develop PBL curriculum for the coming year.
Use a Variety of Planning Strategies
I wrote about many of these strategies in a previous blog post. Teachers need to give themselves lots of planning time, as it is much more complex to create an integrated project. In addition, they need to have conversations about how their disciplines can not only connect, but also add more depth to the learning. Teachers in the image above use a graphic organizer to help plan their thoughts, connections, standards, and project components. The learning objectives and project components have to fit together like a nice puzzle, and should not feel forced -- students will know! In addition, there should be limited products, allowing students to synthesize their learning from all disciplines.
Larger Part of the Meal
Not all integrated projects are equal when it comes to the disciplines. Sometimes a project might hit more standards in math than in English, but those subjects are still connected in the project. This might mean that there is a lead discipline where a majority of the project might live. It's perfectly fine to integrate a project this way. Sometimes certain disciplines are driving the project, while others are there to provide needed and authentic support. Again, it is crucial that the teacher creates the project's need to know, and it's OK that there might be more to learn in one discipline than in another. To continue the metaphor, a project might have social studies as the main course for the meal, with delicious sides in CTE, English, and math.
Many "Courses" in the Project
Sometimes, all components of the project can happen at the same time, where the meal includes not only what could be the larger part or "meat" of the project, but also the sides. This might mean that the project is occurring concurrently in English, science, art, and math. On the other hand, projects can move "course to course," where some courses occur at different times, but one after another. For instance, the project might start in English and art, then move to science, then to math. This can be an effective method for teachers who are concerned about benchmarks and pacing guides. Sometimes, teachers use multiple entry events to continue the momentum as well. It is critical that no matter when the project occurs, in a sequence or concurrently, there is a focused driving question and a project idea that creates the need to know in all content areas.
Until we move out the antiquated, "silo" nature of schooling where disciplines exist on their own, integration can be a challenge. However, we need to look for opportunities to integrate in PBL, where deeper learning can deepen even more as students make connections, explore across disciplines, and synthesize the learning. A full-course meal project, while challenging to create an implement, can be a powerful learning experience for students.