Professional Learning
Individualized Technology Goals (ITGs) for Teachers: A Fable of the Staff Development with No Clothes
In a public school kingdom, the school year started typically for the instructional technology department, with a daylong meeting about school year requirements. This included a list of trainings the campus technology instructional specialists (TIS) were obligated to offer. As one lowly TIS looked over the list, she saw that many of the trainings did not apply to her campus. Her teachers needed her help with integration, not the technology itself. Basically, she felt that the list -- created by a district over-reliant on the group training model for a certain software or technology tool without including integration ideas -- did not reflect the needs of the teachers on her campus. After all, wasn't she an integration specialist? She also pondered what would happen if teachers were allowed to choose their own staff development goals and how they would be coached to reach these goals. She wanted to shout, "This Staff Development Plan has no clothes!"
That TIS did not shout. She proposed that instead of just documenting technology group trainings, she should be allowed to document other types of staff development, including modeling, co-teaching, conferencing, finding resources, and mentoring her teachers. She focused her time on individual teachers and their needs using Vygotsky's theory of the Zone of Proximal Development and scaffolding. After a year, she proposed that the whole district try her Differentiated Technology Staff Development Plan.
Several changes have been made to keep the plan continuously improving, but now in its third year of implementation, the following basics are currently being implemented in this district.
The ITG Plan
At the beginning of the year, the campus TIS meet with the teachers and have them complete an online survey to determine their Individual Technology Goal (ITG) that generally asks:
What instructional objective their students struggle with learning
What technology device or software the teacher wants to implement (can be edited at TIS beginning-of-year conference)
What is the teacher's skill level with integrating this technology tool
What is the teacher's preferred method of learning in staff development (group training, modeling, co-teaching, conferring, planning, etc)
Any other information the teacher wants to share with the TIS
Although these surveys are online, we have the TIS meet face-to-face with teachers to talk about their classroom needs, and have them collaborate with other teachers if they want to choose the same goal as a grade level or department. It is also best practice for the TIS to use this time to showcase a choice of the available district and campus technology devices and integration initiatives.
Then the TIS meet with the district Technology Instructional Specialists to create a Flexible Differentiated Plan for their campus. What are the most popular goals? What technology trainings should be offered and when? The TIS create a tentative timeline of group trainings and groups of teachers they will focus on each month. As a benchmark, the first staff development action for each teacher should be completed by the first semester. Then, at the start of the new semester, the district and campus TIS meet again to reevaluate the plan. Now they plan the next steps for these teachers in the scaffolding process: how can we make them more independent with their integration goal?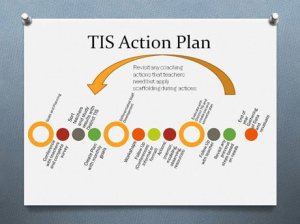 Image Credit: Stephanie Hinshaw Hatten
Model for differentiated staff development.
Plan Notes
With this plan, the staff development is ever changing and cannot be mapped out in its entirety for the whole school year. It also requires much collaboration, discussion, and time, because each plan is tailored to that campus and to individual teachers' needs. However, this differentiated staff development plan seems to be working better for our teachers, and we've had much positive feedback. I am proud to say that since my days as that campus TIS who wanted to shout, our technology staff development plans have changed for the better. They now meet individual teacher needs in real-world situations, focus on integration instead of the technology itself, and build relationships. This makes our plan, in my opinion, "fully clothed."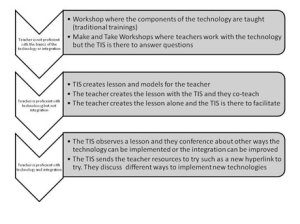 Image Credit: Stephanie Hinshaw Hatten
Scaffolding ideas for staff development actions.
At the end of the year, we asked TIS and teachers their opinions of our ITG plan. Their suggestions have proved valuable in revising the beginning-of-year surveys and choices of technology goals. The responses for the most part have been favorable from both groups. The teachers loved the staff development help that was tailored to their needs, and the TIS were content that their time was being spent on worthwhile endeveavors. The TIS do feel sometimes that teachers do not rate their own integration level correctly, but we have included the option for TIS-teacher conferencing if teachers feel there is any discrepancy in understanding the definition of quality technology integration.
For the most part, the biggest change for TIS and teachers is the fact that every teacher can improve. We spent so many years focused on the struggling teachers that the ones with a partial grasp of edtech devices missed out on staff development opportunities. Now, in our third year of implementation, we are focused on shifting more responsibility for completing goals back to the teachers. Some teachers thought they could choose a goal and then be "fed" the information by the TIS through lecture-based trainings. They are realizing now that improvement in instruction takes work, practice, and a determination to not just recognize systematic problems, but to fix them. It isn't enough to acknowledge that the emperor has no clothes. We have to sew clothes for him as well.
Does your district have individualized technology goals? How does it help your teachers complete them?