Bullying Prevention
Inclusive Anti-Bullying Policies Create a Safer Environment for LGBT Students
Policies are just one important piece of an overall strategy to improve school climate for LGBT students.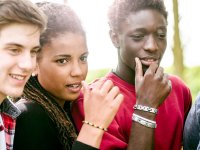 In April of 2015, Montana became the last state in the nation to pass anti-bullying legislation. All 50 states and the District of Columbia now have anti-bullying laws on the books. However, these laws are not all equal.
And they don't always translate into formal protections for all students, especially when it comes to lesbian, gay, bisexual, and transgender (LGBT) students. Yet it's these students who are particularly likely to experience a hostile school environment.
In a recent report from GLSEN (Gay, Lesbian & Straight Education Network), they examined anti-bullying policies -- among other things -- in all 13,181 public school districts in the United States, including whether these policies contained explicit prohibitions against bullying based upon students' actual or perceived sexual orientation and gender identity and expression. It also looked at the relationship between these policies and LGBT students' school experiences.
Troubling Findings
In many ways, the findings are troubling. As recently as March 2011, just 70.5 percent of the nation's districts had anti-bullying policies at all, meaning that nearly three in ten districts did not. Of those districts with policies, most (73 percent) enumerated at least one category of protection to students, such as race, sex, or ethnicity.
But less than half (42.6 percent) enumerated protections for students based upon their actual or perceived sexual orientation. In other words, the policy was LGB-inclusive. And just 14.1 percent enumerated protections for students based upon their gender identity and/or gender expression, meaning that -- if the policy also offered protection based on sexual orientation -- it was LGBT-inclusive.
Granted, this was a few years ago, and there have been many advances in our society in terms of both the awareness and rights of the LGBT community and the anti-bullying agenda since then, but given the slow rate at which change is often implemented, these numbers are still nowhere near as high as they should be.
Also discouraging: The report noted that only about a third (33.9 percent) of LGBT students' whose district policy included sexual orientation were aware of those protections. And among those students whose district policy enumerated gender identity or expression, only 17.9 percent of students were aware of it. 
This is critically important because students who were aware that their district policies were LGB or LGBT inclusive were more likely to report bullying to school staff than students who weren't.
New Hope: Evidence that Policy Matters
Still, the report does offer some hope, providing evidence that simple policy language really makes a difference in the school environment. It found that LGBT students in districts with LGB or LGBT-inclusive anti-bullying policies felt safer than their peers in districts with either anti-bullying policies that were not inclusive or no such policies at all.
It also found that the difference between those in districts with non-inclusive policies and those in districts with no policies at all was not statistically significant, meaning that non-LGB and non-LGBT inclusive policies are no more effective than no policy at all in helping LGBT students feel safer.
In addition, LGBT students were significantly less likely to experience victimization -- such as verbal and physical harassment and assault -- because of sexual orientation or gender identity and expression in districts with LGB or LGBT-inclusive anti-bullying policies than those in districts with non-inclusive policies or no policies -- and again, there was no significant difference between the latter two.
They also perceived school staff as supportive of LGBT students at a higher rate than their peers, rated staff response to bullying and harassment as effective at a higher rate, were more comfortable talking with staff -- including teachers, principals, health staff, and others -- about LGBT issues, and had a higher sense of belonging in their schools than their peers at schools without inclusive policies.
In sum, these findings suggest that enumerating LGBT students in anti-bullying policies may not only reduce bullying and harassment but have a broader effect on school climate as well.
So how can schools and districts act on this information? Ideas include:
Ensure anti-bullying policies are inclusive. This one may seem obvious, but, as noted above, less than half of district-level policies are. And given that district-level policy typically drives school policy, it's worth reviewing yours to make sure it says what you want it to.


Raise awareness among the school community of both the policy in general and the specific LGBT inclusion. Make the policy easily accessible on school and district websites and through handbooks disseminated to students, parents, and school personnel.


Provide professional development on bullying that includes knowledge and skills around LGBT-specific bullying and harassment. The report noted that GLSEN was not aware of any district policies in their sample that specifically required inclusion of these issues in adult learning opportunities, which may limit the effectiveness of educators in both creating an inclusive climate and responding appropriately to incidents violating anti-bullying policy.
Of course, actions related to school and district policy should not come at the expense of other LGBT-supportive school resources. And schools with inclusive policies shouldn't rest on their laurels. These policies are simply one important piece of an overall strategy to improve school climate for LGBT and all students.