School Culture
Improving Our Schools From the Inside Out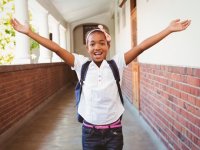 In light of the current issues flooding our education system, from an overemphasis on standardized testing to a shaky implementation of the Common Core State Standards, veteran teachers are turning to extreme measures to stress their dissonance: resigning. After being named "Top Teacher" by ABC's Live with Michael and Kelly, ninth grade teacher Stacie Starr quit because of newly-adopted reforms by her state. She expressed, "I can't do it anymore, not in this 'drill 'em and kill 'em' atmosphere."
Foremost, I cannot imagine what it must feel like leaving a profession that you love out of frustration and hopelessness. I am in no position to judge any teacher who expresses his or her grievances publicly and resigns.
But what happens to the teachers who decide to stay?
What happens to the next generation of teachers who are committed to the profession irrespective of decisions made outside of their personal classrooms? I refuse to become jaded and cynical or simply apathetic, counting down the days until retirement.
To the next generation of teachers, fostering a school culture of optimism and academic rigor begins within our schools -- with us -- not from national or administrative policies trickling down from the top. Consequently, rather than waiting for change, become the epicenter of change.
Outlined below are seven specific actions that teachers can take within their schools to cultivate meaningful changes.
1. Present Instructional Activities
Teaching can be extremely isolating. There are many days where I close my door and seldom interact with my colleagues. Regrettably, such isolation can blind us to the amazing things happening in other classrooms. Creating a space, such as department meetings or teacher institute days, for teachers to come together and present novel strategies and fresh ideas is imperative to ensuring growth and self-reflection. At the very least, it demonstrates to the entire staff that apathy and complacency are not acceptable.
2. Share Resources
Surfing the internet, I frequently come across fascinating websites, articles, and stories that fit well into other teachers' disciplines. For instance, I recently found a great website on overlapping maps that would help geography students appreciate the size and shape of countries and continents. On the surface, I have no obligation to share this resource with other teachers -- heck, I don't even teach this subject area. But taking a brief moment to forward such links to my colleagues underscores my commitment to student learning and supporting a unified staff.
3. Relay Words of Admiration
Last year, a colleague pulled me aside in the hallway to tell me she'd overheard students talking favorably about my teaching. It was a simple gesture on her part, but it meant the world to me. Teaching can often be a thankless job. In fact, months can pass before a student goes out of his or her way to express appreciation for your hard work. So, when overhearing students commend other teachers, make a conscious effort to relay those messages. It's a small gesture that goes a long way.
4. Run for Office
In a profession seemingly controlled by external forces, teachers can feel powerless in their ability to make a difference within their own school. Consequently, we often take a "there's nothing I can do" mentality and accept status quo. However, schools often provide opportunities for teachers to run or apply for elected positions, such as union representatives, professional development teams, teacher evaluation committees, building representatives, and other leadership roles. Schools need strong leadership, and running for office is a step toward empowerment.
5. Observe Your Colleagues Teach
I have always felt that teachers, both new and experienced, should be required to observe other teachers in their practice several times during the school year. Watching other instructional styles and teaching methods allows for greater self-reflection and an opportunity to acquire new ideas. Furthermore, it provides a space for collaboration between colleagues about best practices.
6. Harness Personal Interests
It might be shocking to students, but most teachers enjoy an array of activities and hobbies outside the classroom. As teachers, we must explore how these personal interests can be harnessed as resources for student learning and sparking new interests. For instance, teachers can convert a passion into a school-sponsored club. There is ample research indicating that participating in extracurricular activities positively impacts student academic performance and socioemotional development. In the past few years, I have witnessed many of my colleagues create student clubs outside of their disciplines, such as photography, film studies, and chess.
7. Walk Away From Pessimists
There is nothing more depressing than a school brimming with jaded teachers, the type who emit negative energy and pessimism wherever they go. Even more depressing is finding yourself surrounded by a band of cynics constantly grumbling about their job and badmouthing the entire education system. Conformity can be quite powerful, and for most of us, we have participated in these conversations just to appease these teachers. But improving our schools also begins with walking away. Instead of placating the "Debbie Downers," I challenge teachers to vocally oppose this sentiment and, instead, illuminate the amazing things you see on daily basis.
What intentional steps do you take for improving your school climate? Please tell us about it below in the comments section.