Diversity
How to Teach Beyond Ferguson
For classroom discussions about charged issues, it's necessary to set ground rules, keep the conversation moving forward, and bring it back to the individual.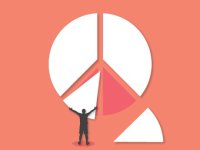 Over the last few weeks, I've had the privilege of getting numerous requests for how I would approach a conversation about the events in Ferguson, Missouri and the murder of 18-year-old Michael Brown. At first, I didn't have many words to say, especially since I covered much of this ground during the Jordan Davis proceedings (and helped develop a brainstorm around ideas then, too). With the cycle of violence continuing to permeate our young people and the speed at which news gets to them, it becomes even more important for educators to stay socially aware and ready to have conversations that might be uncomfortable for them.
Tools and Strategies for Necessary Conversations
But there's hope. More and more, people are willingly having these conversations in order to help end the violence and to help our students (and our country) progress. Educators of all backgrounds have jumped in bravely to tackle topics they may not otherwise delve into. Everyone from Melissa Harris-Perry to Christopher Emdin have chimed in, and a hashtag on Twitter called #FergusonSyllabus has been created to gather resources for those looking to teach on the matter.
If you're still at a loss for ways to approach the conversation, here are some tips for how to do so.
1. Open up the conversation with some ground rules.
Regardless of what we think about our shared experiences, we still come to these touchy conversations with different lenses. Because this conversation has so much to do with race and perception, it's important to lay some ground rules about respect and caring, because these conversations, intentionally or otherwise, can get personal. As educators, because our strongest lens is learning, we should establish that everyone involved in the dialogue is there to learn from one another and participate with intent to listen, not just respond.
2. Facilitate and ask questions to keep the conversation moving forward.
Something educators do on a daily basis is move a conversation by probing and asking questions that inevitably lead to a point of understanding. The same goes for even the tougher conversations. This sort of exchange requires that the adults put their need for control to the side -- but they should also monitor where the dialogue goes (or doesn't). Facilitating requires lots of knowledge about the material, too, but it's not a prerequisite. For instance, prompting everyone to contribute things they know about what happened and presenting all the facts first might make it easier to see the mindset of everyone in the room.
3. Bring it back to the individual.
We don't often get the chance to reflect about our misgivings or perceptions of each other. Especially in diverse communities (and I do mean diverse and not just communities of color), we often dodge racial conversations because we pretend that avoiding the subject means peace. Instead, confronting our own prejudices head-on would make us better people and leaders. Understanding the lens through which we see the world and how others see the world will combine to grow a sense of empathy within our communities, so that when conversations like Ferguson do come up, everyone understands how to approach it.
A Critical Thinking Framework
In the last two weeks, my virtual professional learning community has inspired me to keep having these conversations, too. English teacher Heather Wheat, for instance, shared her own approach to the Ferguson conversation. She created a circular memorial to Mike Brown and prompted people to dedicate the circle to something or someone, a powerful symbolism that focused more on respect and peace than hate and vitriol. Grand Rapids, Michigan educator Michael Kaechele compared the Ferguson looting to the Boston Tea Party as a class exercise. I specifically liked this example because it weaves together America's own history of racism and protest with the current Ferguson on-goings.
Both of these teachers are Caucasian and did their lessons with fidelity and without my explicit prompting. We have other models out there, of course, but we need to recognize that we are all on the hook for these conversations, and owe it to ourselves to get better informed about these ideas. Because events like this happen so frequently, developing a framework for having these conversations is critical, even in districts that openly discourage critical thinking about world events.
How have you handled discussions about Ferguson (or similarly charged events and issues) in your classroom?