Professional Learning
Honoring Pioneers in Education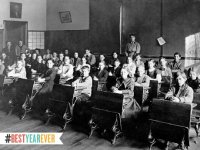 Last week, on July 24, people in the west celebrated and honored early American pioneers. What is a pioneer? It pretty much means someone who does something no one else has done. You could say my great-great grandfather, James Campbell Livingston, was a pioneer for my family. He was the eldest son of Archibald and Agnes, who both died in the cholera epidemic in Scotland when he was five. In 1853, James was the first of his family to emigrate from Scotland to the US and crossed the plains to the west when he was 19 years old. He left a legacy of sacrifice and learning for all of his many descendants.
I think of some of the pioneers of education: Horace Mann, Maria Montessori, John Dewey, Jean Piaget, Madeline Hunter, Robert Knowles, Benjamin Bloom, Lev Vygotsky, Jerome Bruner, Jacqueline, and Martin Brooks, and many, many others. I ponder their legacy of sacrifice and learning, and just as the pioneers pushing heavy loads forged streams and crossed mountains, the pioneers of education pushed education forward through mountains of criticism and skepticism.
I was amazed at what Horace Mann had to do to even get Massachusetts to consider public education. Jean Piaget forged the river of the prevalent behavioristic thinking to counter the belief that learning was all about providing the right stimulus. Malcom Knowles, called the "apostle of andragogy," had a tremendous hill to climb by suggesting that adults learn differently than children. I think of Madeline Hunter and Benjamin Bloom and how they blazed an indelible trail for generations of educators to follow today.
I deeply admire the supreme efforts of educators such as Lev Vygotsky, Jacqueline and Martin Brooks, and Jerome Bruner who believed that students deserve the very best learning environments in which they could construct their own knowledge and understanding.
I look to Edutopia as a pioneer of project-based learning and constructivist principles. That is why six years and five months ago (I had to look it up), I wrote my first blog for them. The folks at Edutopia, as well as the pioneers, are not ones to be looking back at the past. As true pioneers, they have their sights firmly set on a brighter educational future. This summer, I am grateful and super excited to be able to meet with other Edutopia bloggers/pioneers and discuss the future of education.
I received an agenda for this meet-up and every single item on it was about the future. For example, as education turns more and more to electronic and digital resources to enhance learning how can educators take advantage of social media and high tech collaboration to improve their craft and promote increased student academic progress?
The Technology Frontier
Certainly, technology is a vast plain that needs to be explored. With the demise of the personal computer in schools, significant exploration needs to be done regarding tablets and mobile phones in the classrooms. As I watched teachers using technology this week, this really hit home with me. I was observing a group of math and science teachers in the Mix it Up Program at Texas State who were trying to document the growth of crystals with the video functions on their cell phones.
I immediately thought of a type of tablet I had recently used, an Intel, and thought about how these teachers could have used the motion-cam, time lapse, microscope, or kinematic recording options to document and measure the progressive growth of these crystals. Technology is advancing so fast, as educators we can't use the traditional covered wagons if we want to keep up.
Onward!
We are indebted to all the educational pioneers that have left a large legacy of sacrifice and learning for us to enjoy. Because of them, we have seen tremendous advances in student learning both in quantity and quality. Just as I revere and honor my own pioneer heritage, I also honor those pioneers of education who had the courage to do things that no one else had done before. Perhaps one of the best ways we can honor them is to keep moving forward and exploring the new frontiers of education.
What innovative educators, ideas, and topics are on your mind? Please share with us in the comments section below.