Social & Emotional Learning (SEL)
Provide the Gift of Giving for Students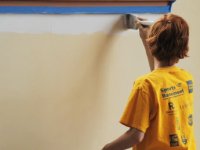 It is not uncommon during the end-of-year holidays, across religions, for families to give children gifts (often, many gifts). Even in families that are struggling financially, heroic efforts are made to give children gifts for every night of holidays, or as close as possible. In families that are better off, there can be temptations to go overboard.
There is another kind of gift we can give children. This year, start a new tradition: the Gift of Giving. Here's how it can work, with parents and in classrooms.
Bringing the Idea to Parents
Teachers can communicate the Gift of Giving idea by sending a message to the families of students. Try something like this:
Dear Parents,
Many households observe upcoming holidays by giving children gifts. This year, please consider starting a new tradition: Instead of giving your child one of your gifts, or instead of one day of gift-giving, allow your child the blessing of giving a gift to others. Children get a very deep and lasting feeling of satisfaction and worth by doing or giving something special to others. It becomes a gift to them that lasts far longer than most toys or games or articles of clothing.
You can discuss this with them as part of the holiday and connect it with the spirit of the holiday that you observe. Let them know how special you consider it. Perhaps you will even do the same, instead of receiving a present.
First, discuss who the gift might be for. Is there a cause or concern that matters to your family, which you want to communicate to your child? A donation to cancer research, to a shelter, to visiting nurses, to a religious group that gave you special comfort in a time of need -- all of those, however large or small, matter a lot. Perhaps there are groups that might want your child's gently-used toys, games, books, or clothing, especially things no longer being used or recently replaced by newer items.
Another way of thinking about gifts is sending a special thank you to first-responders in the community, to members of the military, to those who help with transportation and safety. A personal note, a picture, something created by your children is a special gift, indeed.
In some families with elderly relatives, giving the gift of memory is powerful. Spend time assembling some pictures and make a collage of special moments together. Using the website, Snapfish, or other related services, it's possible to make a picture book of memories of time together. This can mean more to a grandparent or great aunt or uncle, or family friend, than any gift items one might buy.
With best wishes to your family!
Bringing the Idea to Classrooms
Use holiday time to turn this idea into an activity of thanks within your school, perhaps even extending to class "gifts" to the community. Use your creativity and imagination to connect giving and doing for others to the Common Core (helping to make it also a Caring Core).
Writing assignments can be turned into thank you cards; art assignments can be turned into appreciative pictures; music assignments can lead to the creation of songs, or singing or playing for others; social studies can focus on those who have given so much to others -- sometimes even their lives; science can spend time discussing new inventions and applications of science to make lives better.
The key element is using the holiday time and its pervasive spirit of giving and kindness as an occasion to make the connection of what you are doing in school to the benefit of others. Have children reflect on the activities and get in touch with their feelings about being able to brighten others' lives, or at least focusing one's energies on learning to make others' lives better.
Providing the Gift of Giving helps restore the true spirit of the holidays in our homes and in our schools, and shows students how they can use their learning to shine a bright light in others' lives, and by so doing, in their own.