Student Wellness
Getting More Students to Eat Breakfast at School
If you are looking to boost school breakfast participation, the first step is learning why students aren't taking advantage of it. The next step: Rethink the traditional breakfast model.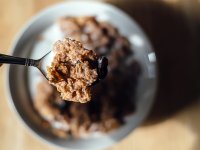 Many people say you should never skip breakfast, that breakfast is the most important meal of the day. But is that actually true?
The answer is unclear. Some recent research calls the claim into question with multiple studies showing that skipping breakfast has no impact on weight gain or loss. Another study found that cholesterol levels, resting metabolic rates, and overall blood-sugar levels were unchanged after six weeks of skipping breakfast. On the other hand, other research shows that regularly eating breakfast appears to be protective against obesity, high blood pressure, metabolic syndrome, and more.
The current best advice on eating breakfast? If you like it, do it. If you don't, don't.
But there is one group for whom research consistently shows breakfast has a positive impact: children from low-income homes.
Why? A common reason people skip breakfast is that they are not hungry in the morning. To them, skipping breakfast is just deferring their first meal until later in the day. But for many low-income kids, skipping breakfast means going without food when they are actually hungry.
Hunger has a measurable impact on children, hindering overall growth, development, and health. And in the school setting, hunger contributes to a number of challenges, including a lack of concentration, trouble paying attention, slower recall, hyperactivity, and emotional and behavioral difficulties.
Child hunger is also -- unfortunately -- quite prevalent in our society. In a 2015 study, Share Our Strength found that three out of four public school teachers say that students regularly come to school hungry, and 81 percent say it happens at least once a week.
Recognizing the importance of child nutrition, the federal government subsidizes both lunch and breakfast at participating schools to students whose families meet certain income requirements. These programs are widely used with schools -- and other qualifying institutions -- serving 19.8 million free lunches each day, as well as 2.2 million reduced-price lunches. But interestingly, despite having the same income requirements, schools only serve 11 million free breakfasts and 0.9 million reduced-price breakfasts each day.
The good news is that school breakfast participation is up significantly over the past few years. But the question remains: Why don't more students take advantage of the School Breakfast Program?
Why Students Don't Eat Breakfast at School
There are a number of reasons why more students don't participate in school breakfast. Some are logistical, and some are social. Most are based on the traditional model of school breakfast as eaten in the cafeteria before school.
Unfortunately, those students who might most benefit from school breakfast can be among those least able to access it, relying on buses, carpools, and other transportation that gets them to school too late to eat it.
Students can also be reluctant to eat breakfast at school because of the stigma it can carry. In some schools, breakfast is "for the poor kids." It is also often held at a time when other children are playing or socializing, and students fear missing out.
How to Increase School Breakfast Participation
If you are looking to boost school breakfast participation, the first step is learning why students aren't taking advantage of it. The likely next step: Rethink the traditional breakfast model.
What should you replace it with? A few years ago, NEA Healthy Futures and Share Our Strength issued a guide on this topic. Depending on the specific challenges you face, you could consider:
Universal School Breakfast
This offers free breakfast to all students, regardless of income status. The school is reimbursed at the correct income category for each student. Since all students have the opportunity to eat breakfast, it removes the stigma that can be associated with it.
Eliminating Reduced-Price Breakfast
Offer the students who qualify for reduced-price breakfast a free meal. The school still collects reimbursement at the correct level, which makes it affordable to those on a very strict budget.
Alternative School Breakfast Models
This can eliminate both logistical and social barriers associated with breakfast by ensuring students don't need to get to school early or separate from their peers to eat. Alternative models include:
Breakfast in the Classroom: Students eat in the classroom after the official start of the school day.
Grab n' Go: Students pick up conveniently packaged breakfasts when they arrive at school and eat in the cafeteria, classroom, or elsewhere on school grounds.
Second Chance Breakfast: Students eat during a break in the morning, often using the same type of service as a grab n' go breakfast.
Breakfast Vending: Students can access nutritious breakfast foods through vending machines set up to offer free- and reduced-price options.
Is low participation in school breakfast something your school struggles with? How have you addressed the issue? Please share your experience in the comments below.