Project-Based Learning (PBL)
Getting Into the PBL Groove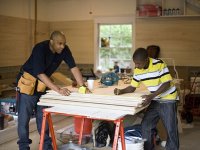 My project-based learning colleague John Larmer wrote a great blog on whether or not to start the year with a PBL project. He astutely articulates the benefits and challenges of doing it, as well as other considerations for implementation. Regardless, PBL teachers want to start the year off on the right foot to make sure that PBL is part of the classroom culture. Here are some steps that you can take at the start of the year to get into the PBL groove
Set the Tone for Collaboration
It is crucial that, from the start, students know that collaboration is a norm in the classroom. While teachers often do team-building activities at the beginning of the year, they could also be doing more authentic collaboration on challenges and problems. These activities might be around content such as math, or even speaking and listening skills in a debate on a controversial topic. Teachers need to present students or co-construct with them a collaboration rubric that is utilized and refined throughout the year. From this rubric, teachers can design or select lessons that target specific aspects of collaboration, such as coming to consensus or group time management. Students should reflect and set goals for collaboration, and these should be goals that they'll revisit. All of these strategies help to build the culture of collaboration necessary for successful PBL.
Critique and Revision Practice
We all know the challenges of having students give and receive a constructive critique. While you can teach these skills in the context of the project, you can also start building them with students from day one so that they'll see critique and revision as normal parts of classroom practice, as well as essential parts of PBL. From protocols and gallery walks to anonymous peer reviews like the one you'll find in Austin's Butterfly, teachers can intentionally scaffold critique and revision to support it in a PBL project.
Educate About or Review PBL
You will have students that come into your classroom that either have no experience with PBL or need to be reminded about what it looks, sounds, and feels like. You can review essential components and steps of PBL through video examples, project examples, or reflecting on past projects. Students can compare and contrast PBL with other teaching methods to help build a common expectation and understanding for what project-based learning is all about.
Build Questioning Strategies
PBL requires the inquiry process. While the project's driving question can help facilitate inquiry, students need skills to design and ask their own questions. Eventually they can design their own driving questions for a project, but earlier in their journey as PBL learners, you can start by teaching levels of questions (PDF, 99KB), crafting these questions for research, and how to search for relevant information. By intentionally scaffolding these questioning skills, it sends the message that we are all curious students in a curious classroom, life-long learners who continually question and investigate.
These are just some of the steps that you can take to build your classroom's PBL culture, to create an environment where students not only know what PBL is, but are ready to jump in. Even if you choose not to do all of these, you can collaborate with colleagues to share the load, and create common expectations that we all support PBL across grade levels and content areas. Building PBL culture is intentional and must start as soon as students walk in the door on the first day of school.
What do you do to help cultivate the PBL culture at the start of the school year?