5-Minute Film Festival
5-Minute Film Festival: Classroom-Management Techniques
August 28, 2015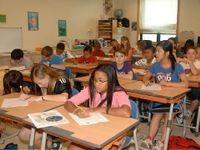 As the new school year ramps up, it's important to pay attention to classroom management. The first few weeks of the school are a crucial time for setting student expectations in behavior and academics. Even veteran teachers can benefit from a refresh or learning new approaches to keeping students on track. Check out these videos, and see if any of the techniques could apply to your teaching style and classroom!
Video Playlist: Classroom-Management Techniques
Watch the first video below, or watch the whole playlist on YouTube.
video
More Resources on Classroom-Management Techniques
For more ideas on how to make your classroom a calm and inviting place for learning, check out these websites and articles.