Technology Integration
5-Minute Film Festival: Virtual Field Trips
How can you broaden your kids' horizons without actually going anywhere? These videos and resources for virtual field trips will inspire you to try a few engaging web-based explorations.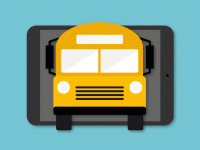 The dog days of summer are upon us; now is the time when all the other activities have run out. Whether you're a parent looking to entertain bored, overheated children, or a teacher already brainstorming ways to break down the four walls of your classroom in the fall, how about taking a virtual field trip? As edtech writer Audrey Watters argues, real-life field trips offer enriching experiences that virtual ones can't, but resources are not always available for in-person trips. Besides -- virtual trips can take you places that wouldn't be logistically possible in the real world. I've gathered a playlist of videos to inspire your own virtual adventures!
Video Playlist: Virtual Field Trips
Watch the first video below, or watch the whole playlist on YouTube.
video
More Resources for Exploring Virtually
Virtual field trips can be as simple as taking an online 360-degree tour of a museum, or as complex as a fully immersive multimedia unit that teaches about the culture, history, and geography of a faraway place -- plus everything in between. The key is finding ways to spark curiosity and make learning come alive. There are so many organizations and websites providing this kind of content for free -- I've shared just a few collections below. Chime in with your favorites in the comments!