Technology Integration
5-Minute Film Festival: 8 Podcasts for Learning
Intrigued by the world of podcasting? This Five-Minute Film Festival features videos, resources, and articles to help any educator get started using podcasts in the classroom as a learning tool.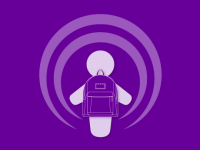 We are currently experiencing a renaissance of audio-only content not seen since the dawn of radio. Thanks to the ubiquity of mobile devices, we can bring amazing shows to our ears anywhere, anytime -- and resourceful educators are finding ways to use these podcasts in the classroom to engage their students. Below is a small selection of my favorites. As with all materials, please preview anything you plan to share with students -- these were produced for a general audience and may contain adult-oriented language or content. But I believe there is rich fodder for powerful learning experiences to be found here.
Video Playlist: Podcasts for the Classroom
Watch the first video below, or watch the whole playlist on YouTube.
video
More Resources on Podcasts for Learning
This list above contains just a few of my favorites; I have to give honorable mentions to Stuff You Missed in History Class, The Moth, and This American Life (of course!) for more excellent audio content. There are lots more resources to be found around using podcasts for learning -- I was pleased to find a website called ListenWise that offers lesson plans to accompany segments from public radio. And, if you're interested in actually producing podcasts with your students, there's a treasure trove of resources for that online, as well. I've included a little of each in the following lists. What's your favorite podcast for classroom use? Or do you make your own? Tell us more in the comments below.
Listening to Podcasts in the Classroom
Making Podcasts in the Classroom