Student Wellness
5-Minute Film Festival: Encouraging Kids to Get Outdoors
With summer here, Edutopia's VideoAmy has collected some videos and resources to inspire you and your kids to get outside!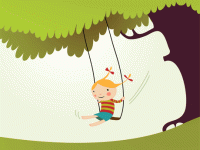 This year, June was proclaimed Great Outdoors Month, and now, school is out and the weather is hot. We hear over and over in the news media that kids these days just want to stare at their devices instead of going outside and getting exercise and fresh air. And it's true that today's sedentary lifestyles have made it so this generation is the first to have a shorter life expectancy than their parents. If that's not enough to get you and the kids in your life off your couches and into the wild, here are a few videos to make the case for the value of connecting kids to nature.
Video Playlist: The Great Outdoors
Watch the first video below, or watch the whole playlist on YouTube.
video
More Resources for Getting Kids Outdoors
Step One: Back away from the computer. It's terribly hard to unplug, and we're all guilty of going down the rabbit-hole of mindless internet entertainment. The organizations below have gathered a wealth of resources to help give you ideas for getting kids out into nature. Just don't spend too much time looking at nature education resources online when the very best advice is really to just turn it off and get out there!