Parent Partnership
5-Minute Film Festival: Nine Boosts for Summer Learning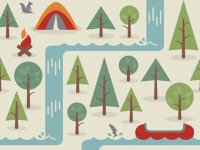 It's going to be a busy summer. For many parents and educators, all the June chatter is about about summer slide and learning loss. But within a few weeks, I'd bet even the most well-intentioned parents will probably let their kids zone out in front of the television. So, I have pulled together some resources to get kids excited about learning through the summer months. Skip the worksheets -- consider these ideas a way to keep the little ones primed for an easy transition back into the classroom, without losing the joy and freedom of their break. Maybe they'll find these activities so fun, they'll stay engaged in learning outside the classroom well into the fall!
Video Playlist: Summer Learning Boosters
Watch the first video below, or watch the whole playlist on YouTube.
video
More Ways to Boost -Summer Engagement
I hope you've been inspired to get up and do some fun activities in the weeks of vacation. Here are more resources for keeping kids engaged outside of school -- all year!
Links for Summer Learning and Summer Slide
Links from the Video Playlist Above