Blended Learning
5-Minute Film Festival: Flipped Classrooms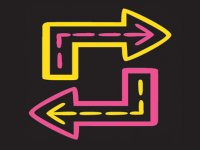 I really enjoyed Mary Beth Hertz's excellent blog published earlier this week, "The Flipped Classroom: Pro and Con" -- one of the most concise and balanced views I've read on the buzz-wordy concept of flipping the classroom. Advocates say that "flipped classrooms" help overburdened teachers differentiate their instruction to reach more learners, provide an avenue into more hands-on and student-driven learning during classtime, and shift the teacher's role from "sage on the stage" to learning coach and facilitator. Critics say it's just a fad, relies too heavily on rote instruction, and doesn't go far enough in making the needed changes for teaching and learning reform. I've rounded up this list of videos so you can learn more about the challenges and benefits of flipped classrooms.
Flipping the Classroom
Watch the first video below, or watch the whole playlist on YouTube.
video
More Flipped Class Resources
Of course, there are thousands more videos on the subject. The conclusion I came to after watching lots and lots of them was the same as Mary Beth's -- the idea of the "flipped class" can be a useful tool to have in your teaching tool belt, but it's not a panacea. And, despite the current frenzy over the idea, it isn't really a new one -- just one we've strayed from as pressures mount around high-stakes testing. If thinking about "flipping" has made you one of the many teachers who is reflecting on your practice and thinking about moving your classrooms towards student-driven learning, here are some more resources for joining the conversation.
Flipping the Classroom Guides and PD
Articles and Press on Flipping the Classroom