Media Literacy
5-Minute Film Festival: Teaching Digital Citizenship
VideoAmy explores the topic of digital citizenship with this playlist of videos on the importance of online safety, manners, privacy, and responsibility.
September 14, 2012
Updated October 24, 2014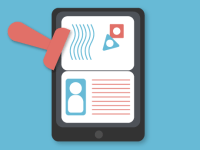 "Digital citizenship" is an umbrella term that covers a whole host of important issues. Broadly, it's the guidelines for responsible, appropriate behavior when one is using technology. But specifically, it can cover anything from "netiquette" to cyberbullying; technology access and the digital divide; online safety and privacy; copyright, plagiarism, and digital law, and more. In fact, some programs that teach digital citizenship have outlined no less than nine elements that intersect to inform a well-equipped digital citizen. It's an overwhelming array of skills to be taught and topics to explore.
But while there is much talk about the importance of teaching digital citizenship in this information society, not many are sure what that really looks like. What tools are out there for teaching it? And how in the world can teachers make time in an already overcrowded curriculum? This playlist is intended to offer tools to make the case that it's critical to teach this, and then launchpad videos to seed classroom discussions once you've carved out that precious time.
Video Playlist: Teaching Digital Citizenship
Watch the first video below, or watch the whole playlist on YouTube.
video
More Resources for Learning About Digital Citizenship
While we haven't solved the problem of finding time in the schedule to teach these essential topics, there is a wealth of great free resources to be found -- many of them aligned to standards, either the Common Core ELA standards, or ISTE's NETS, or both. Whatever the angle you'd like to focus on, you should be able to find some strong materials to supplement your work. Here's a list of resources, organizations, and reading materials to help you get started.