Communication Skills
Feeling the Power of Oral Communication
While most people fear public speaking, children can learn from a young age to recognize and embrace the empathy of the people listening to them.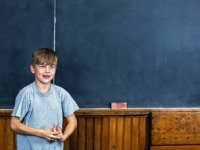 An estimated 75 percent of all people experience nervousness when speaking in public. In fact, surveys have shown that most people fear public speaking more than death. Comedian Jerry Seinfeld said:
Every classroom, regardless of subject matter or grade, should help students feel comfortable speaking in public by assigning them speaking tasks once a month so that they can experience applause. It's just as important for learners to develop themselves as appreciative and empathetic audience members. My passion for this cause is so great that my car license plate is "APLS4U," which is held in place by a frame that says, "Each Day You Deserve a Round of Applause." Other motorists actually remove their hands from the steering wheel to clap -- an appreciative and disconcerting gesture.
With classroom practice in the student's earliest classroom experience, each learner can become progressively more comfortable appearing in front of his or her peers. Here are some ideas about how we can help students overcome the fear of public speaking.
Teach P = P - I
I have a favorite equation, described in Timothy Gallwey's The Inner Game of Tennis, that helps students perform: P = P - I (Performance Equals Potential Minus Inhibitors). The student has the potential to do the best performance possible minus inhibitors such as:
Being unprepared
Nervousness
Making a mistake
Stuttering
Coughing
Fear of audience laughter or ridicule
The performer may address those inhibitors before a performance with these tactics:
Breathing deeply
Thinking of a comforting past event
Practicing (and more practicing)
Remembering that the performer will receive audience support
Each of these strategies empowers the student to face inhibitors.
Practice the "Slate"
For a first performance, each student creates a slate, a greeting during which the actor acknowledges the audience and announces his or her name before a public performance. The term "slate" comes from the boards that production units once used to mark a filmed scene. The clapboard was made of slate and written on with chalk. Now it is an electronic device to identify shots for film editing.
The actor's slate is like a verbal handshake that demonstrates confidence, warmth, and genuine feelings of happiness during an introduction. A child's slate consists of an appropriate greeting, such as, "Good morning" or "Hello classmates of (title of class)." The performer then says, "My name is _______" or "I am _______" with conviction and enough volume so that everyone in class can hear, understand, and believe the speaker's confidence.
Reminded by the teacher to think of a comforting memory, joke, or favorite food, the student relaxes and walks confidently to the front of the room and learns that this space is exhilarating, not scary. The student is directed to walk proudly, come to a complete stop, face the audience, stand with arms at his or her side, look toward the spectators' foreheads (to avoid being distracted by eye contact), take a breath, smile, and speak clearly. The more nervous children can be reminded that this state is natural -- it means that he or she cares. Once the speech has been delivered, the child, head held high, returns to his or her chair, sits, breathes, and relaxes. The entire production takes less than one minute per student.
Help Students Reflect
After the performance, the teacher can ask students:
How did it feel when you walked to the front of the class? How did you feel standing in front of the class?
How did you feel smiling at the class when you were finished?
How did you feel walking to your seat?
What part of your speech are you most proud of?
What changes do you want to make next time you speak?
The audience can also discuss what they noticed about each performer, or how they felt if the speaker seemed confident or nervous.
Coach the Audience
At the end of the speaker's slate, the coached audience exhibits appropriate celebration for the speaker. By teaching every grade level the expectations for proper audience behavior, we provide students with a way to practice respectful empathy. If this expectation is articulated in the early elementary years, individuals will learn how to support audiences for the rest of their lives.
The potential benefits of this monthly performance are astounding. Students of all ages grow accustomed to presenting in public. Audiences learn to support their peers. Best of all, even the youngest students learn what it feels like to receive applause. So APLS4U for you and your students!
Other Recommended Public Speaking Resources