Technology Integration
Facilitating Social and Emotional Skills Through Tech
It all begins with relationship. We hear educators say this over and over, but do we really believe it? Do our actions support our words? After an unbelievable, engaging conversation I had with others at ISTE12 SocialedCon, I know that there are many passionate educators ready to go forth and make the changes we so desperately need in education.
Super Session
The session, which I co-facilitated with Jackie Gerstein Ed.D, was about the benefits, both hidden and explicit, of using technology to facilitate social and emotional learning.
Jackie began the session introducing the topic and asking that we tweet with the tag #SELtech. I shared the following statement from UNC Pep lab about the ways we, as humans, can feel inspired, passionate and fired up for the important work that we do.
The conversation gained momentum with remarks about how technology, particularly in social media, is sometimes cited as a place where people demonstrate poor social skills.

Immediately, hands popped up with participants wanting to share about the positive power of technology in breaking down barriers to learning.
Paula Naugle spoke about the power of blogging as an equalizer for less verbally articulate students. Heads nodded as stories were shared, highlighting the celebration of student voice and passions through tools like Kidblog and Edmodo. Through learning how to use images and words to effectively tell a story, students gain an understanding about the concept of audience and the power of storytelling. Comments4kids was also mentioned as a powerful way for teachers to solicit feedback for their students, thanks to William Chamberlain.
Colette Cassinelli talked about the depth of thinking that surprised her as others chimed in about how technology affords every child a voice. Participants highlighted the gains in social status that happened as students shared their strengths through technology. Suddenly a student who is shy or less popular becomes known as an expert.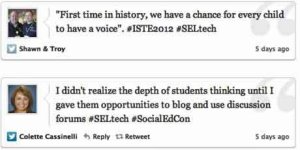 Edmodo was highlighted as a safe forum for teachers whose administration might be a bit cautious about blogging because it can be as open or closed as desired.
Bringing in experts and joining with partner classes through Skype and Twitter were cited as powerful experiences. Perhaps a student now sees herself as a scientist after that inspiring connection on Skype with a scientist.

Others shared about how students used technology tools to share passions and talents none of their peers knew they had, thus leveling the social playing field for less socially competent students. Both live and virtual participants added to the discussion.
Teachers as Guides
Angela Maiers jumped into the conversation with her usual boundless energy, discussing how students must master the game of show and tell in order to build the skills they will need online. We all need to learn how to be patient, to listen, to work together.
The conversation made a very interesting turn when a high school physics teacher, Riaz Abdulla, from the SF Bay Area shared his experience in teaching, or should I say, facilitating, a powerful learning experience with coding. His statement here led to lots of nodding:
"What I had to do, and it was really, really hard, was shut up. Kids had to struggle."
Riaz talked about the remarkable process of building trust in his classroom when he assured his students that if they hung in there for 20 minutes, through a state of extreme frustration, they would be amazed at how much they could learn. He had to get out of the way, something many of us educators are realizing as the role of the teacher changes into more of a facilitator and not provider of knowledge.
I saw this tweet from him later:

And there the conversation made another turn, into modeling and building an environment where risk-taking and failure are celebrated. Margaret Powers jumped in with a question:

We talked about the power of gaming with a brief reference to Minecraft as a way to harness passion in learning and capitalize on student creativity.
And then, as the hour quickly wrapped up, we were left with a big call to action from George Couros, an administrator from Canada: "Schools right now only teach students to be good at school." George encouraged each one of us to be change-makers in our own school cultures.
And, now, I leave you with a key question: How do you use technology to connect, empower and build social and emotional learning skills in your students? The best way for us to make change is to share our bright spots. Please comment and share your stories with us.