Professional Learning
Every Teacher an Innovator
Innovation. It's a word being thrown around education an awful lot these days. Call it a buzzword or edu-cliché. There seems to be consensus, however, that all of our schools need to be more innovative to best meet the evolving strengths and needs of our students, today and tomorrow. Where I don't see consensus is in who should be doing all this innovating to get us where we need to be as an innovative educational system.
While sitting in the Innovate. Create. Relate. Conference on Home-School Partnerships (#icrcon13) in Melbourne, Australia this past November, I had the privilege to hear U.K.-based innovator Valerie Hannon speak. Here's one of the things she shared that really struck a chord with me:
Think about it. What she shared happens every day in our schools. With each day that passes and each day that our colleagues look to see who will "step up" and lead innovative change, the gap widens even further. Plainly stated, each of us (teachers, parents, principals, organizational and community leaders) has the responsibility to be the innovators our kids so vitally need to help them grow and leverage their strengths.
Defining Innovation Through Our Distinct Lenses
Maybe you've heard this said (or even said it yourself) about a colleague:
Here are two things to consider about this statement:
In 2014, that's no longer a very good excuse for not leveraging technology to provide the best teaching as an educator.
Using technology every day and being innovative aren't the same.
Many educators feel that innovation is directly tied to use of cutting-edge technology. I have to disagree. I believe we need to think of these terms more as a mindset than any one tangible thing. There are high- and low-tech examples of innovation being leveraged on a daily basis to meet the needs of our students, staff and community. Think about the image below through your own lens, and about attacking each day with "two screens" up at all times.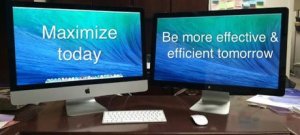 Credit: Indiana EdTech Guru @MrBrettClark
Innovation: The Two-Screen Approach
Mindset is Everything
As educators, being innovative in our planning, implementation and reflection must simply become "part of the job," no matter what our role is in working for kids. Leveraging student voice daily, meeting students, staff and families "where they are," and using high- and low-tech strategies in teaching, learning and leadership are places where having two screens up at all times is vital. Let us keep the focus on maximizing each day and working to become more effective and efficient tomorrow. This should be our goal whether we're facilitating teacher-led professional development, engaging families and community, communicating across stakeholders, or the hundred other things we're responsible for orchestrating on a daily basis.
What mindset do we want to instill in our students when they leave our classes and our schools? What will truly prepare them for the evolving and increasingly connected, innovative real world? As school leaders, perhaps it is our own role modeling (or lack of innovation in our leadership) that sets the tone for what happens in our schools. One thing that any great teacher or school leader won't tell you is, "I've reached the summit. I can't get any better than I am right now."
For more ideas about innovation, check out Valerie Hannon's Learning a Living presentation on Slideshare.