English Language Learners
Extending Learning by Engaging Parents
See how bringing the parents of English language learners into their kindergarten creates more learning opportunities.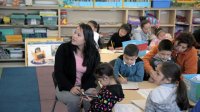 While filming in an elementary school in Richmond, California, earlier this year, we saw a clever idea in a kindergarten class. The teacher was building an inclusive community in his classroom of English-language learners by encouraging parents to come to his class and participate directly in their kids' learning.
While not every parent is able to volunteer time during the school day, for those that are able, it can be incredibly rewarding for everyone involved. In the video above, teacher Douglas Wheeler of Bayview Elementary explains why it's a win-win situation when parents are able to come to school -- the parents feel connected to what's happening in the classroom, and the learning gets extended beyond the school day.
Since Wheeler is fluent in Spanish, there is no language barrier in communicating with his students' parents.
If you're looking for more resources for supporting English-language learners, start with our ELL topic page. Here are three of our favorites: