Technology Integration
How to Engage Your Students With No-Cost Technology
Online 3D scans give students close-up views of historical artifacts and natural wonders, all without the cost and tactical considerations of a field trip.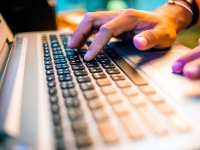 Students are more engaged on field trips than they are by a textbook. Who can blame them? It's so much more fun to experience an object or a place than to only read about it. But with field trips come costs and logistics, and because of those two things, many times field trips are not possible.
Good news! There's an exciting technology that you can utilize, free of cost -- yes, free of cost -- that will allow your students to experience an object or a place without having to leave your classroom. This technology is called 3D scanning. A 3D scanner uses light or a laser to capture all surfaces of an object or place, creating an exact digital replica. Currently, 3D scanning is being used to digitally preserve artifacts and historical locations around the world in an interactive format that is engaging for your students. And the best part is that your students can access these 3D files from the convenience of your classroom!
Historic Battleships and Giant Nostrils
The Smithsonian has an excellent resource available for you to incorporate 3D scanning into your lesson plans. Your students can experience a variety of artifacts by rotating them, zooming in on them, and even measuring them with near-exact accuracy (which can be particularly handy for a science or math lesson). History students learning about the American Revolution will surely be engaged as they investigate all of the nooks and crannies on the Smithsonian's Gunboat Philadelphia from their seats in your classroom through this great interactive 3D file.
Another fantastic resource that allows you to take your students on a digital field trip is through the CyArk Organization. The wonderful folks at CyArk have used 3D scanning technology to capture significant historical sites around the world. Through their website, you can take your students to Mount Rushmore or Angkor Wat! The best thing about CyArk is that they have a number of great and complete lesson plans ready for you to download and execute in your classroom tomorrow. One elementary lesson plan has students take measurements from a 3D file in order to figure out what those measurements mean through active exploration. For example, how many kindergarten students can fit inside George Washington's nose at Mount Rushmore? At the secondary level, students are asked to calculate volume from a 3D file, or understand petroglyphs, brainstorm restoration work, and demonstrate the basics of architecture in order to better engage with complex mathematical concepts.
Student Scans
At Mid-Pacific Institute, where I teach a historical preservation course with the aid of our school technologist Tony Johansen, my students were lucky enough to work with CyArk to create 3D files from scratch. Through a grant (for which any school can apply), we purchased a 3D scanner from Faro and put it to use on a variety of projects during the course's pilot year, uploading to our class Sketchfab account for each project. The students, mostly seniors, teamed up with CyArk to capture the remains of Honouliuli, a World War II internment camp here in Hawai'i where Japanese Americans and prisoners of war were held. On their own, the students completed a capture of a WWII aircraft from the Pacific Aviation Museum:
Image credit: Mid-Pacific 12th grader Ariel
Pacific Aviation Museum's Dauntless Aircraft by Mid-Pacific Scans on Sketchfab
If your school is looking to get students of all ages involved with creating original 3D files, there are a variety of products out there to fit every budget. Structure scanners are hand-held and can be relatively affordable while providing great accuracy. Some inexpensive scanners even attach to an iPad for capturing small objects. Another way to explore creating 3D files inexpensively is through photogrammetry apps available on iPads and smartphones.
As the 2015-16 school year progresses, consider one of the many 3D scanning resources available through the websites of museums and organizations, free of cost, to engage your students with artifacts and places both near and far. More and more lesson plans using 3D scanning will become available as time goes on. Your students will be excited to experience these 3D objects and places as they learn about the associated events and natural phenomena -- without ever having to leave your classroom! Not only does 3D scanning show your students the world, it lets them engage with it as well.