Education Equity
Education Equity: Tackling the Term "At Risk"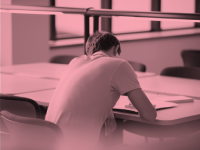 We actually won our first basketball game! I had my doubts when the other team showed up in three times our numbers (we only had six young men) and they all had snazzy blue uniforms (our team had t-shirts with the numbers drawn on the back with black markers). Yet our team not only displayed the skill, ingenuity, and teamwork of more traditional teams, they also handled themselves with sportsmanship and maturity.
Compared to the grim demeanor of most other athletes, our students appeared to be having fun, and fouls that would cause typical athletes to get angry or melt down, did not phase them. I was proud to be their principal.
Against Many Odds
Initially, when I was told that we were going to have a basketball team at our tiny school, I was moderately surprised. We have students that come from all over San Antonio, some of whom must take multiple city busses to get there each morning. Nearly 90 percent of students at the school are considered "at risk" because they come from low-income homes and live in areas of the city with high poverty rates.
Nearly all of our students need to make up credits. Some are working nights and come to school half day. Others are parents and struggle to find childcare so they can attend school. Recently one student found out she is pregnant, while another just ran away from home, and one is the primary caretaker for her sick grandfather. All of my students, at one time, became disconnected from school and at some point, decided to come back.
Poor attendance, discipline problems, and difficulty with authority plagued this group of students. In regular public school, most quit trying to pretend they liked school. And, here, at their current school, I can say our students have come back to school because they want to and that makes all the difference.
While at this school, I have learned something about students who are considered "at risk." While they come from harsh circumstances or challenging home environments, somehow these amazing students are getting to school, taking care of business and making progress towards their future. In my small school, I have seen students take on leadership roles that perhaps in larger schools they would not have considered.
Students Are Thriving
Our clubs and student council are flourishing. For the most part, the students are shouldering the burden of their learning and their futures. Even with the gaps in their learning caused by chronic absences in former schools, the students push forward in their learning and the small-school, family-environment seems to be helping these students to thrive.
Perhaps the thing that strikes me most of all is that these students, while facing so many daily challenges, also have much to give. Our students are enthusiastic and not afraid of challenging the status quo or the establishment. They will tell you what they think and will not pull their punches. They are tough and resilient because of their situations and histories. In the classroom, our students, when given a chance to engage in real learning, do it with gusto. They want a sincere one-on-one relationship of trust with every adult they deal with at school.
Resources at Our School
We have a federal grant that is providing more opportunities for our incredible students. Each of our students has a faculty mentor and we are working on creating not only graduation plans, but post-graduation plans, too. Soon, our students will be receiving tablet computers and transition to the blended learning model.
We are also are providing our students with computer repair and networking skills. Additionally, students are given experiences through college field trips, such as the one we just took to the University of Texas at Austin. On Fridays we invite colleges, businesses, and motivational speakers to engage our students in planning for their futures. We are engaging the parents and the surrounding business in helping our students to be successful.
Believing They Can
As I watch my students perform on the basketball court, I was filled with a sense of pride at what they were doing in the classroom. Not only did we put together a winning team but something else amazing happened. We gave these young men and women a valuable opportunity to test themselves against challenging odds. Isn't that what life is all about? This determination and grit directly translates to how they perform in school.
Given the opportunity, any student will rise to the level of expectations. We just have to give all students that opportunity. How do you support students in reaching high expectations? Please share in the comments section below.