Professional Learning
Do I Need a Digital Teaching Portfolio?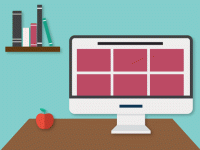 Designing a well-organized and professional teaching portfolio can give you an edge in a competitive job market, and help you score high marks on your school's teacher evaluation form. It is, however, a time-consuming endeavor (the average portfolio takes about two to three days of work), and once built, your portfolio will require regular attention. This post will help you decide whether or not a portfolio will serve your professional goals and how to go about designing a professional-looking site that showcases your teaching skills.
1. Do I Need a Portfolio?
There are several reasons to start building a portfolio:
2. How to Get Started
Choose a platform. Blogger and Google Sites integrate well with other Google tools. WordPress has an excellent collection of widgets, and Weebly has a stunning template collection. Invest a little bit of time in exploring the tools available to you, and choose the one you find the most compelling.
Choose an address. Make sure that your site URL is easy for your audience to remember.
Choose a template. A simple template is best, but consider uploading a custom banner to personalize your site. You can purchase a banner-size picture from a photo sharing site such as iStock, or have somebody take pictures of you teaching. Remember that you must have the legal rights to every image you use.
Keep the design clean and simple. Choose a bright and clean color scheme. If posting pictures of yourself and your students, select the best ones and make sure you have all proper permissions.
3. What to Include
Title page: your portfolio should have a clear title at the top. It should be obvious to any visitors that they are viewing a teaching portfolio.
Clearly labeled navigation: your navigation bar should be clearly labeled, as most visitors will soon leave if they find the organization confusing.
"Must Have" pages:

A Home or About Me page with a short welcome paragraph, a brief biography, and a professional picture of you.
Your resume, which could be a summary of your education, skills, and experience that includes a link to a PDF version of your full resume.
Your teaching philosophy shouldn't be longer than a page, should be entirely your own, and should be free of typos and grammar errors.
Sample annotated lesson plans -- avoid posting links to PDF versions of your favorite lessons plans. Nobody has time to read through entire documents. Instead, write a short paragraph explaining some of your favorite and most successful classroom activities. Include student feedback if possible, pictures or screenshots, and a link to the lesson plan itself at the end of your description.
For the materials that you created yourself, add a Creative Commons license at the bottom of each lesson plan or resource that you share. It will show an awareness of copyright issues, and allow you to decide how other teachers may use the materials you shared with them.
Links to your social media profiles (Twitter and LinkedIn, for example, but not Facebook unless your profile is strictly professional).
Other pages you may include:
A contact page listing your email address so that your peers can contact you about your work.
Feedback from peers, parents, and students can take the form of quotes from their letters or emails to you.
An instructional technology page -- although your web-based portfolio itself will serve as evidence of your technical skills, you may add a page to showcase the technology-based projects you have implemented in your classes.
A page on extracurricular activities, such as taking students abroad or leading the chess club.
A blog page.
4. What to Leave Out
Your portfolio is your 21st century digital business card. Do your best to present a coherent picture of your professional self and leave out any irrelevant or personal information pertaining to your hobbies or family.
5. Maintaining Your Portfolio
The most challenging aspect of having a teaching portfolio is keeping it up to date. While time consuming to build, teaching portfolios can be professional assets to teachers, especially when built to serve multiple purposes and audiences. They represent clear evidence that you're actively engaged in your community of practice and might even open doors and create professional opportunities that you had not anticipated.
What tips have you learned from creating and maintaining your portfolio?