Literacy
3 Digital Reading Challenges for Summer
This summer, more than ever, how we read may be just as important as what we read. In April, researchers at West Chester University published a report arguing that eReaders could lead to decreased comprehension and fluency. In this New York Times article, the professors suggest that the interactivity, easy access to a dictionary, and constant use of text-to-speech could actually hinder the development of students' reading skills. However, the examples highlighted in the article focus on the content -- comparing traditional, paper-based books to electronic versions with a high level of interactivity such as games and video -- rather than addressing the skills and strategies implemented in the reading process.
As I wrote in a previous post, students now have the potential to customize their reading experiences with mobile devices. So this summer, instead of reading in whatever manner you would traditionally use, I'd like to suggest three digital reading challenges. You never know -- it could give you a number of strategies to better support your students in the fall.
Challenge #1: Reading in a Browser
Despite my pleas, colleagues routinely printed out the online articles that they wanted to read, and every conversation concluded in the same way: "I just can't read on screen."
Only after much listening did I discover that the true issue wasn't the act of reading, but rather the process of annotating. With printed copies, my colleagues could highlight, add notes, and save the readings for future reference. The issue wasn't digital vs paper -- it was having a means to interact with the content.
For this first challenge, actively read several online articles (such as those found here at Edutopia) using either the Evernote Web Clipper or Diigo.
Evernote Web Clipper Features:
Highlight text
Add comments and tags
Markup web pages
Organize and share in notebooks
video
Highlight and insert notes
View all annotations
Add comments and tags
Organize and share in lists or groups
video
Introduction to Diigo from EdTechTeacher on Vimeo.
Both tools work on any device. To complete this challenge, make sure to highlight text as you read, inserting notes, saving and tagging your annotations, and bookmarking the links. With either tool, not only can you actively read articles, but you can also search and share your notes. Consider how this may change the ways in which you teach students to conduct online research or consume web content.
Challenge #2: Reading PDFs
Reading online with either Evernote or Diigo assumes an Internet connection and could prove to be a distracting experience with banner ads, pop-up windows, and the usual myriad hyperlinks. These factors deter students and teachers from reading online, and may negatively impact comprehension as indicated by the West Chester University research.
However, when reading articles as PDF files, whether they are downloaded or created using a conversion service such as PrintFriendly, many of these distractions are removed. Additionally, when using a PDF annotation app such as Notability or Explain Everything on iOS or Android devices, or OneNote on Windows, students can read in a cleaner environment, type their thoughts, and also handwrite their notes as marginalia. Brad Overnell-Carter, in Leading Online Learning Online, says, "They [handwritten notes] extend the conversation beyond the author . . . often giving another perspective on how to read the book in hand."
For many readers, the tactile experience of highlighting, circling, drawing, and handwriting plays a critical role in connecting to content. While this has always been possible on paper, tablets now make it a reality on screen. After incorporating these strategies, annotated PDFs can also be saved, searched, and shared -- extending the experience well beyond what is possible with paper.
Challenge #3: Reading eBooks
During my last year in the classroom, we saw a surge in the number of books that our middle school students consumed, all thanks to Kindle. They loved the fact that they could get new books on demand, read in a variety of conditions (no more holding a flashlight while reading at night), and access a dictionary as needed. The previously mentioned New York Times article warned against eReaders. However, I think that as educators, we need to further explore them from the context of teaching critical reading skills and strategies.
For this last challenge, choose any book to read in iBooks, Kindle, or Nook. Though iBooks can only be accessed on iOS devices or Macs, the latter two have apps that work on multiple devices as well as via the web. Highlight passages as you read, and add text notes to support your comprehension. However, unlike with a paper book, search and share your notes plus access your book from anywhere and at any time -- via your computer, your tablet, or even your phone.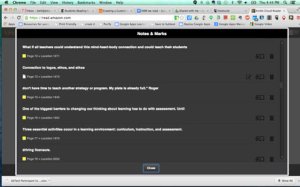 Image Credit: Beth Holland
Notes taken in the iPad Kindle App and then accessed via Kindle Cloud Reader.
Choosing the Best Reading Environment
Last week, I sat on a flight next to a boy and his father. "Look!" the father said exuberantly to his son. "You've read more than 200 pages. That's fantastic!" The boy looked down at his paperback and smiled from ear to ear. He had a sense of accomplishment about turning those pages and progressing through that text. This post is not to say that all reading should be done on screen, nor should it all be on paper. Because, when it comes to supporting students, how they read may be just as critical to their comprehension as what they read.