Administration & Leadership
Plan a "Digital Family Summit" to Engage Students and Parents
I recently had an opportunity to attend the first Digital Family Summit (DFS) in Philadelphia, Pennsylvania. Presenters and summit attendees were both parents and students. The "summit" included families from as far away as Canada, Utah, California, and of course those from local states and cities that could make the trip.
My Mission: Takeaways to Bring Home
I went in as an observer from my school, looking for takeaways to bring back to my own school setting. While using tech tools was a focus for many of the sessions, what struck me was a love of learning within each family in attendance. I spoke with event organizer Adam Gertsacov, who shared that "parents really loved learning with their kids. Both tech-savvy parents and non-tech savvy parents loved having the opportunity to be with their kids, to learn digital techniques together, and to have fun with technology together."
And learning happened rapidly. "In a three-hour session, several kids were able to put together some pretty amazing animations using Scratch, make some very complete video projects, and even start their own blogs," said Gertsacov. He shared a number of blogs (that he knew of) which were started in the session, including one by nine-year-old Hannah Alper. (Her new fourth grade teacher will be inheriting an extremely creative and hard-working writer come September!)
Besides teaching families how to blog, DFS covered topics from digital citizenship to creating your own YouTube channel. Student tween and teen entrepreneurs shared their success stories about how they got started online, as well as how their strong home-school support led to those successes. The relationships between parents and children were extremely positive, and several parents expressed how blogging together and the creation of their family blog had actually brought them closer as a family.
School-Based Takeaways
Looking at the Digital Family Summit session schedule below, we see there's a great deal schools could do to reciprocate the experience back in a local setting.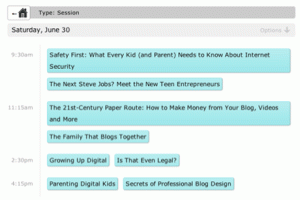 Day 1 schedule of the Digital Family Summit
Teams of students, parents and educators taught each session, helping to provide maximum perspectives on the tools and skills involved. We have so much to learn from each other, and especially from our students and families as we all work to stay connected in a digital world, whether at home or at school. Would your students and parents be excited about attending a free, homemade conference with topic sessions like those suggested below?
Ideas for Building Your Own Digital Family Summit
Students as At-Home Producers
What's a Healthy Dose of Screentime for Kids?
Skyping 101
Curricular Support with EduApps
Cyber-Safety
Facebook for Parents
Edmodo for Students/Parents
Twitter 101 for Parents
Twitter 102 - Hashtags for Parents
Starting Your Family Blog
Signs of Cyber-Bullying
Student Online Entrepreneurs
Become a Movie Producer!
Digital Photography
Participant Feedback on the Digital Family Conference
Gwen Pescatore, Knapp Elementary School Parent
As I write this, I am allowing my 11-year-old, under a screen name, to post video blogs on KidzVuz.com, a controlled sharing site for kids we discovered at the information packed Digital Family Summit.
Sitting in the sessions and workshops, I was amazed at what these teens have accomplished. They've started online retail sites, produced blogs to share thoughts on a book, food they've eaten, video games they love to play, and built virtual communities to support niche hobbies (support which might not exist in a small hometown). While I listened to these kids share their stories of how they got started, questioning the safety issues of kids putting so much info out there online, my son sat next to me, trying to negotiate internet freedom and describe his latest ideas.
I love technology and the power of the Internet to allow sharing of info with anyone in the world, just as we would share info with our neighbors or coworkers. I know my children will be sharing most of their lives online sooner or later, whether I like it or not. It's the struggle with walking the fine line of allowing freedom of exploration and self-learning while still keeping them safe. This conference reminds me that just as I taught them how to safely cross the street (verbally telling them how, as we crossed together holding hands, then letting them cross small areas without holding my hand and eventually graduating to crossing on their own), I need to teach them how to safely share and learn online.
Joey Pescatore, Knapp Elementary Student
Q: What was your favorite session and why?
A: My favorite session was "Family Blogging." I liked it because I got to hear Xander Hansen talk about "vlogging." His video blogs are about video games that I also like, and I really like his commentary (it's hilarious). I want to start making video blogs now.
Q: If you could design a session to teach other kids, what would you choose and why?
A: There are two sessions I would like to teach other kids. One is Scratch (that I learned about at the Digital Family Conference). It is a video game creating program. Most kids love video games, so why not make your own cool game? The other session would be video editing using the Splice app. I would teach kids how to take lots of videos and connect them together to make one. Then how to add a title page, credits and special effects like slow motion, fading in and out and music.
Q: If you could design a session to teach other parents and teachers, what would you choose and why?
A: If I were to teach parents and teachers a session, it would probably be about blogging. Not many adults that I know blog and it's a great way to inspire kids to be better writers. Teachers could share their ideas with other teachers, and give students their assignments on it. Parents could share stuff with their relatives about where they've gone, what they are doing and recipes they made.
I would encourage everyone to go to the next digital family conference. It was definitely cool to learn all these new things, meet the other people and hear them talk about what they do.