Student Engagement
Snapshot of a Deeper Learning Classroom: Aligning TED Talks to the Four Cs
Edutopia is pleased to premiere the first blog in a new seriesdesigned to showcase compelling examples of how students aredeveloping 21st century skills through a deeper-level of learning.Through this blog series, we hope to increase awareness and encouragereplication of successful models.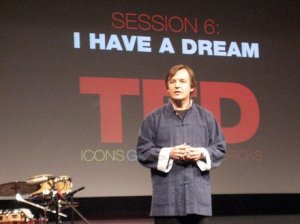 Chris Anderson, TED curator. (Photo credit: Pierre Omidyar via Wikimedia Commons)
As many of my readers know, this year I have been dedicated to using the 21st Century four Cs. The four Cs are a rubric of sorts that help align lessons to more reality-based learning and assessing.
As I design a lesson or assessment, I ask myself if what I've designed, or what the students must master, correlates to the important skills of:
Collaboration
Communication
Critical Thinking
Creativity
My lessons and tests must incorporate one or more of of the four Cs to, in my opinion, be worthy of spending precious instructional time in the classroom.
On another note, the other short rubric I keep in my head is related to differentiating my lessons. Looking at teacher and education author Dr. Carol Tomlinson's list of ways to differentiate in the classroom, you'll notice that this aligns nicely with the four Cs above. Tomlinson explains that the four elements that lend themselves naturally to differentiation are:
Process
Environment
Content
Product
OK, so in other words, I might sit down and think about something I want to do with the students. I think about these two lists of four in a way to ensure that I am hitting as many learners as possible -- with the wall up of rigor necessary to help prepare them for what we can predict they might need for their future.
An example of this is my TED Talks unit. I started using TED last year in the classroom. It hit on a number of the points I listed above, but I wanted to target them more specifically. So, each summer I sit around and examine how I am going to improve on my units for the next school year. I began to fiddle around with my mental wrench, tightening and tweaking different elements of the TED unit I wanted to retain.
This post will focus on how I adjusted this unit making each student a greater master in her/his academic content and how communication will play a huge role in the end result.
Know and Master Core Academic Content
For this year's TED Talks unit, I aligned it to the Common Core standards focus on argument instead of persuasion. It's a slight difference, to be sure, but it's key. Argument demands a more rigorous attention to citing concrete evidence over making emotional pleas. Sure, a student can use passion and persuasive techniques, but let's face it, emotion does not a great argument make.
First, we start our TED unit by watching key speeches. As you know, TED speeches are presented by experts in their fields. They range in topics across all content areas, and they push students to listen and comprehend topics that can represent the minute details of very esoteric subjects. The format of a TED speech is, in fact, a multi-genre essay that incorporates many of the elements of different genres into a single speech.
Then, we brainstorm different advocacy issues (like "the Pacific Trash Island" or child labor) that we could research and solve by breaking them down from school site to local, from state to national and international topics. Each student pitches the topic they most want their group to focus on, and the groups vote to choose their advocacy topic for the quarter.
The students each create "Problem Statements" like those used in college masters programs to pitch a thesis. They develop a paragraph of background information on the issue and develop 3-5 guiding questions that could by used for further research should the group select that topic. The students then do a read around and come to a consensus about the topic they most want to focus on. Coming to consensus, by the way, can be anything from the students running a quick pro/con debate, majority rules vote, or even a rock/paper/scissors smack down. It's up to each group to decide.
Clearly, there are tons of topics in the room happening at once. Am I the expert of them all? Heck no! The goal is for students to become the expert in their content. If a student selects a science-based issue that demands a solution, do I as teacher have to be the authority of that content? If a student selects a historical argument that ripples into current events and demands a solution, do I as teacher have to be the authority of that content? Of course not, but I am the expert in how to communicate one's research and evidence. Which brings me to this...
Communicate Effectively and Creatively
As a Language Arts teacher, I get the honor of encouraging any content area as a topic since my focus is on communication of that topic. I say "honor" because it means I get to learn from them. However, with the Common Core standards, and the four Cs, which are peppered throughout them, stressing the importance of communication is no longer limited to English class. All classes must find a way to use these skills to communicate subject matter expertise.
This year, I have decided that I don't call my class Language Arts. I instead refer to what happens in my room as The Art of Using Language. This unit, therefore, focuses on as many aspects of using language and communicating as I could think of:
Creating a website
Designing an infographic
Recording a podcast
Developing a Powerpoint or Prezi
Each student in a small group chooses one of those products above to head up. (But every student will be involved in the development of each, so they all will have the pixie dust of each individual kid on it.) Each of them incorporates student choice in the product and caters to different modalities. And each highlights the ability to communicate content over the simple regurgitation of learned information.
This is a window into my classroom and a glimpse of the planning that goes into, what I hope, creates a deeper learning environment. Let's just say that I take my own continuous and enthusiastic learning from my own students as a reflection that they themselves are learning more deeply.
This blog series on Deeper Learning is supported in part by the William and Flora Hewlett Foundation. The opinions expressed are those of the author(s) and do not necessarily reflect the views of The William and Flora Hewlett Foundation.