Bullying Prevention
How to Cultivate a Bully-Free Community
Make communication and emotional literacy part of your everyday curriculum. These won't eliminate conflict and bad feelings, but they'll prevent bullying patterns from taking root.
October 2, 2014
Updated September 24, 2015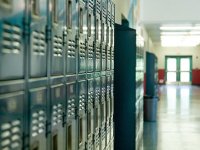 Fifth grade student Malcolm Lyon is especially tall for his age and well-spoken. When asked what he loved most about his school, Malcolm answered simply, "No bullying." This might be surprising given the struggle with bullying that schools face nationwide. This August, Malcolm is starting his eighth year at Odyssey Community School, a small private school in Asheville, North Carolina that serves students in prekindergarten through high school. Here, the subject of bullying is addressed with five guiding fundamentals.
1. Recognize that bullying and conflict are not the same thing.
The community that Malcolm is describing is not a place without conflict. Disagreements happen, feelings are still hurt, words are still powerful, and kids are still learning how to navigate the complex world of friendships. Odyssey is not a paradise in which human nature is checked at the door. Conflict is a natural part of our human story, and conflict resolution is a skill that children and adults alike need practice navigating with grace.
Conflict, however, does not equal bullying. Bullies are built by repeated and unresolved conflict. Bullying behavior is a strategy learned and repeated because it works to satiate unsatiated needs: power, insecurity, attention, or revenge. However, with conflict, real resolution is achievable without creating the chain of abuse that has so befuddled educators.
2. To break the pattern, you need to talk. Compassionately.
In fourth grade, Malcolm had some conflict with another student -- let's call him "John." He felt what most would call bullied by John: belittled, teased, and often interrupted during classwork. To address this pattern, his classroom teachers facilitated intentional conversation. In describing this process, Malcolm said, "We just talked -- without being mean."
Malcolm's mother, Emmy Bethel, reflected, "What was striking to both of us was the compassion [of teachers and other students] toward this little boy who had clearly been taught to behave that way. Instead of using normal punitive avenues, there was compassion there." In her words, Malcolm and his classmates were working on "the ability to see the needs of this other person and to speak clearly about them."
Teachers at Odyssey Community School are trained in Marshall Rosenberg's Compassionate Communication, which is a model of navigating interpersonal relationships built on a foundation of empathy -- recognizing and honoring another person's basic needs. Odyssey's goal is to educate the community so that everyone from parents and administrators to students and teachers use Rosenberg's four steps of stating a request in conflict resolution -- whenever conflict arises:
Make an observation without judgment.
Identify your feelings.
Explain your needs.
State your request.
3. Conflict resolution belongs in curriculum.
Bully prevention programs often include awkward PSA videos played over classroom televisions, laughable role-play scenarios, and forced "discussions" coaxed by teachers who are ill-prepared and unsupported. Students are hard pressed to avoid laughing at their school's administrative attempt to shed the briefest light on the darkest challenge. Top-down efforts to approach a grassroots problem never seem to do the job.
Odyssey classrooms hold weekly class meetings for collaborative problem solving, in addition to councils that are heart centered and intended for exploring rather than solving emotional experience to improve awareness and acceptance of emotional life. As day-to-day conflict arises, students as well as teachers can request mediations, and they make time for them between or even during class when it's necessary -- because it is necessary.
As simple as Rosenberg's model sounds, it can be challenging to use when emotions are triggered. The type of environment that can make discussion effective requires slow cultivation and dedicated time, neither of which public school teachers have time or support to practice. So little time is left to them after testing that regular and real conversations about bullying -- its digital character, nuances of innocence and guilt, cycles of cause and effect -- can be terrifying and challenging in the best of circumstances. As with any skill, from persuasive writing to solving algebraic equations, students need to be taught conflict resolution with scaffolding, vocabulary, guided practice, and real purpose.
4. Grassroots problems need grassroots solutions.
According to Leah R. Kyaio, the author of The Top 5 Reasons Bullies Bully, bullying happens because the system is modeled by adults. As well intentioned as they may be, top-down efforts from administrators -- the ones that often evoke as much eye-rolling from faculty as from students -- is a form of managerial bullying. Rather than imposing stock lessons during Anti-Bullying Week (as if we're really going to address this epidemic in one isolated week), communication and emotional literacy should be cornerstones of daily curriculum, as much as it is used and modeled by adults in a practical way.
Malcolm and John are not what anyone would call friends. If he were honestly asked, Malcolm might say that he doesn't even like the kid all that much. He might say that he understands him, however, and that he's at peace with what happened between them. Having gone through that experience last year, now he feels even more confident about how to approach conflict.
5. Seek restoration, not retribution.
As students mature, conflict can become more complicated, and students become more cognitively developed in their awareness of personal responsibility and culture. To address this progressive shift and to engage older students in creating a culture of accountability and citizenship, students and teachers in Odyssey's middle and high school classrooms use Dominic Barter's Restorative Justice Circles.
Within our Fairness Committees (Odyssey's school-age modification of Barter's Circles), students work together to uphold community values set by students, practicing reparation when conflict arises and using the fundamentals of Compassionate Communication in every meeting. Rather than merely uttering an apology or receiving suspension or detention, Fairness Committees get creative in their solutions to repair harm, sometimes asking the "author" to bake food, make a film, or otherwise take action to rebuild the relationship that was broken. In avoiding punitive measures, we empower students to empathize with their own experience and with others, and to create the community culture that we all intuitively desire.