Technology Integration
Authentic, Hands-on Learning with Career and Technical Education
Career and technical education (CTE), formerly known as "shop class," is not limited to sawdust and greasy wrenches. It can be those things, but it can also be Biomedical Engineering, Food Science Theory and Application, Digital Media and Carpentry; all noble callings that are ripe with the potential of fruitful careers in the job market.I am a daily witness to outlandish potential and even more incredible reality as I see students fabricating complicated ductwork, reworking the plugs and wires on a V8 engine and interpreting the bitewing X-rays of dental patients. Career and technical education is about differentiated instruction, higher levels of thinking and essential questions. Can it be more? Is it more?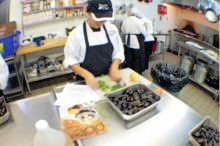 Exploring. Examining. Questioning.
When I construct a lesson for my crew, of course I focus on ushering them to comprehend the elements we are exploring. Applying those pieces and, subsequently, analyzing their products are part of the construct of a lesson. And, most often, creating anew and passing reflective measures to ensure mastery are critical pieces of what we do. All this as we are working with chicken or pasta or mussels.
Collaboration to set a course; cooperation and more questioning.
How does the career arena compare to its academic counterpart? I think CTE instructors have a unique venue and -- damn right! -- we exploit every square inch of it. My students are hands-on, upright and dug in. The day-to-day in-class activities are anything but. There is authentic problem solving in the form of collaboration, troubleshooting and brainstorming. There is sampling, rendering an opinion, soliciting feedback, revising work and starting all over again. Through relevant, hands-on engagement, this crew is ripping through Bloom's Taxonomy with authentic experiences.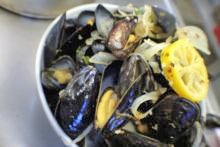 End product. Or not. Subject to peer and self evaluation.
I remember my education psych class (which I was forced to take when I left the cooking field) and the very last words the instructor offered us. We had these long, sweeping lectures; preposterously long assignments; tome after tome of reading; and a capstone project to end the class that involved individual presentations fully equipped with hand outs, the requisite PowerPoint and philosophy of teaching. After all that haranguing and dancing about, she closed the class with: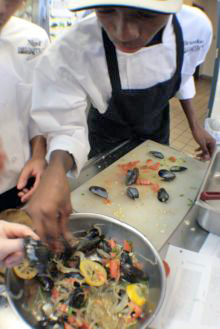 Sampling. Evaluating. Starting over.
"Just keep it relevant and everything else will take care of itself."
That was it. No Zen-like revelation or time-tested sage advice from a seasoned veteran. Just a little prompt to keep it real. And she could not have been more right. You see, in the CTE realm, we don't have room (or time) for exercises with little to no relevancy to the career calling that intrinsically drives our students. So when we are examining mussels, there are stacks of teachable moments that bring the learning to life at every turn of the gas knob, grip of the knife and sample consumed.
And it is all happening in real time. All of what CTE does is authentic and grounded in a reality that is functional and formative. The skills that students work to refine are portable and almost always instantly recognizable as such. Which brings me back to the question of whether CTE more than just another piece of the academic mountain-scape? Maybe it's the path that is lit for students to recognize what is beyond all those tough climbs. Scalpel, spatula or saw in hand, the CTE experience can be the real-world preparation part of the puzzle.