Assessment
Critical Assessment Ideas from PBL World
I had a great time at the PBL World Conference in so many ways: as a presenter, as a panelist, as a listener, as a collaborator, and even as the subject of art. (Now, that is something I would never, ever have guessed!) Everyone took away his or her own ideas for implementing PBL projects, but one theme I noticed throughout the entire conference was assessment. Assessment remains a challenge for many of us who do PBL, but I left the conference feeling more confident not only in the assessment practices I have done, but also in generally accepted best practices. Here are some of my big takeaways:
Assess 21st Century Skills
There were many "deep-dive" sessions on teaching and assessing 21st century skills, from critical thinking to creativity and innovation. (I myself recently wrote a blog on the latter.) This may be a challenge for some teachers, as most of us are good with assessing our content area, but not necessarily 21st century skills. Use already-existing rubrics to target quality indicators for scaffolding activities where students learn and practice aspects of the 4Cs. If we truly value 21st century skills, then they must be taught and assessed as we would do with any other content area's knowledge and skills.
Assess Process and Product
It is crucial to assess not only the product of a PBL project, but also the process along the way. Formative assessment is key here. There must be benchmarks not only in terms of content, but also product. Traditional formative assessment tools can be used along the way for students to reflect and revise their work, as well as set goals. In order to ensure not only quality but also critical learning of content and skills, we must value the PBL process as well as the product.
Authentic Assessment
"Keep It Real" was Sam Siedel's call for PBL -- in other words, to make the work authentic and meaningful to students. When students create products, it is crucial that the assessment is authentic. Instead of doing all the work yourself, have an authentic audience contribute. Since the students are doing meaningful work, it only makes sense to get that work to the experts and audience who need it. In addition, let's think about authentic assessment as something that's also student-driven. Have students assess their own work and well as the work of their team members and peers.
Embed Standardized Assessments
I wrote a blog on this subject awhile ago, and it still holds true: standardized tests remain a concern for teachers. In fact, they are a concern for teachers across the globe. Educators I worked with from Canada, India, Israel and Indonesia all expressed the same concerns and fears around standardized tests. The key here is embedding that material within PBL projects to keep them somewhat meaningful while still practicing for the standardized test.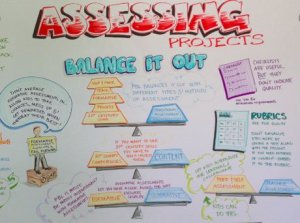 Credit: Andrew Miller
Presentation poster from 2013 PBL World Conference