Project-Based Learning (PBL)
Constructive Thinking and the Perfect Fixer-Upper
High school students can take a class that, through a joint effort by their school district and community, lets them redesign and remodel a house.
In my experience, I've discovered that students want their learning to matter, to count for something. In an effort to provide that type of "real" experience, I pitched an idea to my principal who helped me run with it. Last spring, Reedsburg Area High School added my House Flipping class to the course description book. We offered it for the first time in the 2015-16 school year, and I'm happy to report that it has been successful for everyone involved -- especially for the 12 young men enrolled in the course.
Home Remodeling for High School Students
For years, Reedsburg students have been building in and around our community. When I inherited the building construction program nine years ago, senior students spent the last two periods of their school day in the community constructing a garage. It was a wonderful program, and I was proud to have worked with eight groups of students who built garages in our community, pleasing local homeowners. While it was a valuable experience for students, I felt that they were capable of doing and learning more. I wanted to show them the many other areas of construction.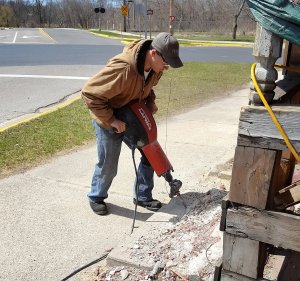 © Mike McCarville
The idea of remodeling a house with students came to me after watching hundreds of hours of HGTV and working on my own house. I pitched this idea to my principal: I would take a group of students to a home that needed work, teach them the process and procedures required for fixing it up, and bring in local licensed professionals to work with them in the renovation. He loved the idea, seeing an opportunity for an authentic learning experience and building a strong relationship between the school and community.
Less than a year later, my dream became a reality. This past fall our high school offered House Flipping to twelve students. Each student created a solid plan for our house from start to finish. They measured each room and designed a new layout for the old home. Each student had an opportunity to present his design to the class and explain why he thought it would work best for the home. As a team, we blended many of their ideas to create an efficient and cost-effective design.
As we began our work in the house, we encountered several obstacles: lead paint, asbestos, a crumbling crawlspace wall, makeshift framing, sloping floors, leaky roofs, and improper electrical and plumbing. Every obstacle opened the door to a new learning opportunity for the students and for me as the teacher. One of the biggest lessons that my students walked away with was the ability to adapt and adjust plans accordingly. When I asked what they'd learned about themselves throughout the process, one student responded, "I can do this, and I can have fun at the same time. I also learned how to get along to get the job done right, and I'll never forget that."
Building a High School Course
© Mike McCarville
Working out all of the details took a little time, but it was time well spent. In order for a school district in Wisconsin to obtain new property, a local referendum needs to pass. Even if the district can afford it, the community has the final say. Although I was confident about our community supporting the program, Reedsburg hasn't passed a referendum since 2004. Competing against other home buyers could be challenging, as well, so I reached out to our city administrator. If the city was willing to obtain a property, the school district would cover the material cost and labor for the professional contractors. When the house sold, the school and city would divide the profits based on the percentage they contributed. Both the city and school district embraced the idea, seeing it as a fantastic opportunity for our students and community.
The course wouldn't have happened without the support of the school board and city council. Our city building inspector put me in contact with a homeowner who was debating whether or not to raze his home. I shared my vision of having students renovate a house and gain real-world skills that would help them in their career and life. He was receptive to the idea and donated the house to the city with that intent.
The 2015-2016 school year was a pilot year for our House Flipping program. With a group of 12 students and a block of three afternoon class periods, we set out to rehab one of Reedsburg's original homes, dating back to 1873. The students got an authentic experience of what it takes to plan, estimate, budget, design, schedule, demo, install, and construct. Along the way, they worked with local electricians, plumbers, masons, and HVAC crews, learning about their trades and the path they took to get where they are. They also learned about the dangers of lead and asbestos from our abatement professionals.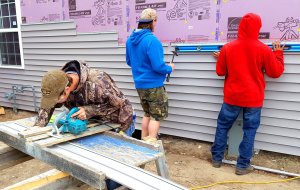 © Mike McCarville
Although this was a great experience for the students actually enrolled in House Flipping, several other classes benefited as well. Our video production class did some filming and editing, our agriculture classes will be growing plants to landscape the yard, and our art class created decorative wall hangings from the lathe we pulled from the house. The benefits spread even farther. The community receives a beautifully renovated home, the city earns a higher tax revenue, and the contractors earn recognition for their service with students. These students have earned a one-of-a-kind educational experience while gaining skills and connections that cannot be duplicated in a classroom.
Taking on a home with so many renovation needs had its stressful moments, but ultimately, it was well worth the time. Our numbers have grown, and a new group of students will take on the challenge of finishing up the house come September. As for the future of House Flipping, the city has purchased two more properties for future rehab.
Look at our September 2015 video introducing the house, and please share your impressions and similar experiences in the comments section below.