Literacy
Uncovering "Complex Text" in the Common Core
One of the critically mentioned components of the Common Core is the complex text. This need for complex text came out of studies that students were not arriving at college ready to read college-level texts independently. The Common Core documents also indicate other reasons and rationale. One of the most startling claims is: "Despite steady or growing reading demands from various sources, K–12 reading texts have actually trended downward in difficulty in the last half century." Overall, the common core believes our students are not only ill-prepared to read complex texts, but also not receiving exposure and instruction coupled with complex text.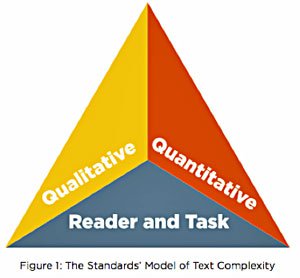 Credit: Common Core State Standards Initiative
One of the challenges of the "complex text" is gaining a real understanding of exactly what it is. When reading the prefaces and explanations in one of the Common Core appendices, the case is made for students to read increasingly complex texts, as it has been found that when students reach college they are not as prepared to understand the texts required at that level. Often our students are required to read these texts independently, so it makes sense to arm students not only with the skills to read these texts, but also give them practice in doing so.
But what exactly is a complex text, and how can you ensure that you are using age appropriate texts in the classroom?
Standards of Measurement
The Common Core measures complex text with three aspects.
Qualitative
When examining a text qualitatively for text complexity, you consider a variety of factors. You examine the text to see how much of the language is conversational and how much is academic. In addition, you should examine the language to see how much is literal and how much is figurative. When looking at literary texts specifically, you examine whether the text demands singular to multiple themes or themes that are complex. You should examine the text for singular to multiple perspectives. You also should consider if the text requires everyday or familiar knowledge and/or cultural knowledge outside of the familiar. These are some of the indicators to look for qualitatively. A text may rank high in some and low in others, but higher indicators overall are a good sign that a text is more appropriate for educating your students.
Quantitative
In terms of quantitative texts, there are many things to consider, and the Common Core acknowledges there is no perfect method for examination, rather there are many effective methods. Methods such as the Flesch-Kincaid and Dale Chall are mentioned as possible measurement standards. Although this data might be researched, there is no specific way for teachers to "score" a text independently. Rather, teachers should consider how these factors mentioned next might create challenge for readers. You should examine the text for syntactic complexity, sentence structure and word length. You might also examine for level of vocabulary and Lexile level. One of the most interesting points brought up from the Common Core is that we must demand appropriate Lexile scores to College and Career Readiness standards, as articulated by this chart: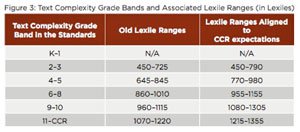 Credit: Common Core State Standards Initiative
Readers and Tasks
To me this is all about instructional design; that we teachers are demanding rigorous and complex tasks for the work we ask our students to do with the text, while creating tasks that are appropriate for their learning objectives. The Common Core emphatically states that students must be engaged in complex texts, but -- no matter how rigorous -- this is not enough. We must scaffold the learning and reading skills needed, and demand high quality, authentic tasks for students. Educators also need to consider when it is appropriate to remove the scaffolding so students can read and perform independently, hopefully by the end of the year.
A Work in Progress
It is critical to note that the Common Core document states: "The Standards presume that all three elements of the complex text will come into play when text complexity and appropriateness are determined."
However, I would push back on the idea that all texts need to have them equally at all times. Yes, we need to make sure we are arming students with the skills and stamina to read texts that are complex; where the task assigned to students is rigorous, the quality level of the text is high, and the Lexile levels and other quantitative indicators are high as well. But I know texts requiring rigorous reading that may be low on the quantitative score. Consider the poem Introduction to Poetry by Billy Collins, a text I often gave my secondary students. The vocabulary is not too complex, nor is the length of the text too long. Yet it measures high in the qualitative area, because the thematic aspect and the figurative language in which it's written require critical reading. In addition, it would be crucial to give my students a task for this poem, whether formative or summative, that is rigorous and requires critical thinking. Make sure you are intentional in your choice of texts, regardless of how they measure up in terms of the indicators of a complex text.
Other documents on the Common Core site go into further detail on the ideas explained, and also give examples and contexts. In the Common Core document, texts are also suggested for grade level. These can be used as a guide, but only just as such. As our students come to us with different reading abilities, grade levels and cultural backgrounds, we must differentiate instruction through the texts we pick as well. As the Common Core is implemented more and in more in districts and schools, we as educators need to understand what the "complex text" is both in terms of what is good for our students and what the Common Core might dictate. We must not only carefully choose what they read, but also carefully choose what we are asking in terms of tasks and objectives when students read.