Education Trends
New Standards for ELA: Common Core for Middle School ELA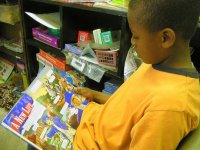 Focus Areas and Instructional Implications
Although the Common Core ELA standards are comprehensive and address a broad range of communication skills, they place particular emphasis on five key areas: reading informational text, reading complex text, close reading and citing text evidence, writing arguments, and research. Let's take a closer look at each area and consider its implications for teachers.
Reading Informational Text
During the last decade, the amount of nonfiction included in literature textbooks and on national reading tests such as the National Assessment of Educational Progress (NAEP) has been increasing. The Common Core adds momentum to this trend, calling for a balance between literature and informational texts in the curriculum. The standards also emphasize domain-specific vocabulary and informative writing, requiring that students read texts that provide rich subject-area content and models of expository structures. Considering that as little as 15 percent of current middle school instructional reading is expository (Common Core State Standards Initiative, 2010d), adoption of the Common Core Standards means middle school teachers will need to increase the number of informational texts read in their classrooms.
Reading Complex Text
The Common Core defines a three-part model for selecting texts in each grade span that will lead to college and career readiness by the end of high school. Within this model, text readability -- specifically, its quantitative measure for relative difficulty -- is set higher than the mark set by prior readability systems and reading comprehension assessments for each grade span. Middle school students are now expected to independently read and understand texts with Lexile scores between 925 and 1185L by the time they finish 8th grade (Nelson, Perfetti, Liben & Liben, 2012), which is notably higher than prior expectations (860-1010L) (CCSSI, 2010d). This change will have a strong impact on which texts, and in particular which informational texts, are appropriate for middle school students. The qualitative measures and reader task considerations -- the other two legs in the model for text selection in the Common Core -- provide teachers with a set of criteria to use when evaluating titles for particular students and situations.
Close Reading and Citing Text Evidence
The Common Core has numerous reading standards that ask students to closely analyze the information, ideas and rhetorical choices that appear in texts. Students are expected to provide text evidence to support their assertions about the content and rhetoric in texts that they read. Teachers may emphasize this type of close reading and use of text evidence in their classrooms by increasing the number of text-based questions that they ask. Currently, many questions in the curriculum are designed to develop student background knowledge or to help students make connections between the text and their prior experience. These types of questions will remain important during pre-reading exercises and as support strategies, but the bulk of questions used should be text-based. Text-based questions can be answered only by careful examination of the text. The Common Core publishers' criteria document (Coleman & Pimentel, 2012) estimates that 80 to 90 percent of questions within the curriculum should be text-based to match the requirements of the Common Core reading standards. Additionally, teachers should favor graphic organizers and activities that ask students to provide direct quotations from the text as evidence. Teachers may want to immediately begin to inventory and review their current curriculum to identify and modify the types of questions and organizers used.
Writing Arguments
Many of the Common Core ELA Standards ask students to evaluate and develop formal, logical arguments based on text evidence. While prior state standards typically described a broad set of skills related to persuasion, they did not place particular emphasis on dissecting logical arguments. Teachers will need to incorporate lessons that ask students to analyze exemplar oral and written arguments, and they will need to increase the number of writing and speaking assignments in which students argue their opinion about a topic or theme, using text-based evidence as support.
Research
The research standards in the Common Core are not a significant departure from those found in most state standards, and most teachers may find that they are accustomed to covering similar content during the course of a year. However, the Common Core specifies that students conduct both brief and sustained research, and that this research be woven into many different classroom contexts. Likewise, standards throughout the Common Core reflect research skills requiring students to compare and integrate information from diverse sources. Teachers seeking to implement the Common Core Standards will likely need to increase the number of activities in which students gather and synthesize information.
Excerpted from
Common Core Standards for Middle School English Language Arts
© 2012, McREL. Reprinted by permission of McREL. All rights reserved.