Interest-Based Learning
Children in Charge: Self-Directed Learning Programs
Programs like Hands On Technologies, Villa Monte, and the Network for Teaching Entrepreneurship demonstrate the positive outcomes of letting children choose their own learning paths.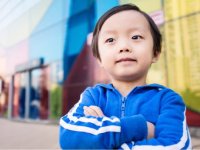 In the ever-changing demands of today's economy, even children with a solid knowledge base in reading, writing, math, and science are not guaranteed a stable career for the rest of their lives. In addition, an increasing number of graduates will have to create their own jobs.
How can teachers foster the creativity, entrepreneurialism, and lifelong curiosity necessary for young people to thrive?
Tools in the Hands of Children
Brent Hutcheson and his team at Hands On Technologies wanted to see if putting tools into the hands of children could make a difference under adverse conditions in the township of Atteridgeville, South Africa. They used colorful manipulatives to come up with different exercises that allowed children to take the lead in exploring ideas and concepts both individually or in small groups.
Children were far more engaged when they had hands-on tools that helped them develop their own understanding of the concepts being taught in both science and language subjects. It's more than just fun -- teachers were consistently surprised by the much higher levels of language and vocabulary children used in these settings. And not only did the children love those colorful bricks, but they also demanded to use them in other classes.
Over time, teachers felt comfortable moderating games that put children in charge, allowed for more student problem solving with manipulatives (today, bricks are used to build bar charts, complete memory games, and visualize math or physics problems), and gave them space to explore on their own with great success.
The Radical Model
Villa Monte is a government-approved "school" in Switzerland that is just reviewing its 30-year history. It has no teachers, no exams, and no report cards. Children from 4-18 years of age arrive every morning and decide entirely for themselves what they want to do during the day, whether they prefer to roam the woods, cook, practice for a theater play, or program a robot.
Children learn at their own pace. Some are able to read by age five, others by age ten. The differences are fully accepted, and children are not forced to learn a concept they might not be ready for. As a result, the children of Villa Monte have historically exhibited far lower levels of distress and anxiety compared to children in the regular school system.
The adults -- paid staff and sometimes parents -- are there to answer questions and provide emotional support, but otherwise do not interfere with the children's self-driven learning process. They minimize any praise or criticism. But there is one rule: "You should not do anything to other children that they do not like." There is no pedagogical concept, just the individual path of each child that determines the daily routine.
It is not surprising that children who have gone through Villa Monte report having had a very happy childhood. But are they able to survive the pressure in today's society? The alumni surveyed in a recent study reported that they did face a knowledge deficit when pursuing apprenticeships or college studies, but that "content deficit" is typically made up within six months. Every student learns social competencies, self-esteem, and how to learn independently -- three important 21st-century skills -- and graduates have gone on to become artists, engineers, and IT entrepreneurs.
The Villa Monte model cannot be easily replicated, but it does point to the fact that children can be trusted much more to take charge of their own learning.
Children as Entrepreneurs
A number of social enterprises have been set up to foster the spirit of entrepreneurship in children. The Network for Teaching Entrepreneurship (NFTE), for example, was founded in 1987 in the Bronx, New York, to teach entrepreneurship and the entrepreneurial mindset to high school students from low-income areas. How do they do it?
At first glance, NFTE's semester-long classroom program seems to function like any high-achieving school-based environment -- rigorous academics, math and literacy curriculum, and a problem-solving approach. But here's the difference. Every lesson is tied back to starting a business. Students have the opportunity to meet with business leaders, visit community-based businesses, and compete for seed capital through a series of business plan competitions.
Wish you could bring some of NFTE's instruction to your classroom? They offer five tips:
1. Push collaboration.
Working in teams on a shared goal is an important skill with diverse applications in business and the workforce.
2. Get students speaking and presenting.
Students make verbal presentations to their classmates on the very first day in most NFTE classes. And they repeatedly make individual and team presentations and pitches, which dramatically boost confidence.
3. Focus on an end goal or competition.
This outcome serves to motivate students and tie lessons together. Almost all of NFTE's programs end with a business plan pitch competition for valuable awards -- $25,000 or more for the national winner.
4. Underscore persistence.
Grit is a key component of entrepreneurship and success in general. Pushing students to keep trying, especially when they don't succeed at first, is essential.
5. Diversify the instruction.
NFTE uses an experiential learning model which places leaning-by-doing over lectures and book-centered learning. Guest speakers and team activities also help students learn through experience.
Catalysts of Change
More recently, in 2005, Ashoka Fellow Jeroo Billimoria founded Aflatoun, which is working with over 150 partner organizations in more than 100 countries to provide social and financial skills to children. Equipped with these skills, children as young as six years old start saving and developing their own ideas for social or financial enterprises. More than 15,000 such children-led enterprises have been started since 2008, including ventures where children produce snacks, rent out bikes, and distribute ID cards.
As Irene Mutumba, founder of the Young Entrepreneurs Clubs and Aflatoun's partner in Uganda, says, "Young people can be catalysts of change within their own schools, within their families and communities, and of course the country at large."
She's right. And, sometimes, all it takes is putting them in charge of their own learning, their own destinies. Hands-on activities, experiential learning, and a freedom to innovate can only help.
Editor's Note: This post is inspired by one of the eight patterns appearing in educators' innovative approaches in the Future of Learning report, "Equipping Adults to be Changemakers in Learning," by Ashoka and the LEGO Foundation.