Literacy
Common Core in Action: Examining 2 Texts in the Social Studies Classroom
An iPad lets students consume and interact with content, a fun and efficient way of meeting the Common Core standards for integrating and analyzing information.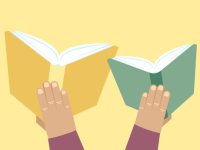 Engaging students across the content areas while addressing the Common Core State Standards can be a daunting task for middle school teachers. One way to keep students excited and interested in a topic is by using an iPad as both a tool for both content creation and content consumption. You can find multimedia informational text for students or ask them to locate their own. Then they can connect with and reflect on their readings using a variety of iPad apps.
Relevant Reading
In the social studies classroom, informational text can come in different forms. I loved using current events articles with my students, because this kind of text is high-interest and relevant, and it helped them become more knowledgeable citizens. There are lots of apps for locating news stories to share with students, including the NYTimes and USA TODAY.
The Common Core State Standards ask students to use details they have gathered from informational texts to draw conclusions. An important aspect of this task is the idea that students must use information from several texts on the same topic. This means that they will need to read articles from different sources that cover the same topic. Here are the standards that outline this expectation for fifth and seventh graders, although this concept is present in some form for all grade levels:
Interacting with the Content
In order to address this standard, let's start off by thinking about the iPad as a content consumption tool. The iPad can be used to access a wide variety of texts from different news sources. Some students in your class can listen to audio from NPR while others dive into articles from the Wilson Center -- a great opportunity to differentiate. Either way, they are getting their hands on text toward which you have specifically directed them, or they've searched independently in a quest to find two or more articles on the same topic.
The iPad can then become a content creation tool as students begin to interact with text. Using graphic organizer apps like Inspiration Maps, Grid, or Venn Diagram, students can keep track of the details they gathered from each article. They can use color coding and labels to represent the information from different sources. In classrooms with access to only a handful of devices, students can work in pairs or groups by sharing a text they've found and completing a graphic organizer together.
To take this interaction with text a step farther, students can use the information they gathered from each source to create a final product that demonstrates their understanding. They might make a public service announcement in iMovie, or a screencast that highlights different parts of an annotated text in Explain Everything. With the range of apps available on an iPad, teachers can present choices to students and differentiate based on interest and learning style.
Informed Consumers
As students explore informational texts in the social studies classroom, they can use literacy skills while learning about topics in the news. With an iPad, your students can consume content as they read about current events, and then organize their thinking and demonstrate their understanding. You can address the CCSS Reading Informational Text standard by providing students with access to technology tools that allow them to find, explore, and learn about local and global issues.
How have you addressed these standards in your Common Core instruction?