Technology Integration
Cardboard Box Tools
The child in the photo above just received the most amazing toy! It might have been a giant stuffed giraffe, or a truck, or a new game. However, the cardboard box is even more exciting. The child will eventually outgrow the giraffe or the truck because those toys can be only one thing -- but the box is timeless. The box can be a racecar, a submarine, a suit of armor, a castle, or a cave.
We can learn a lot from children's infatuation with cardboard boxes. It shows us how much they want to shape and construct new things, how they long for the freedom to create. In fact, as illustrated by the phenomenon of Caine's Arcade, when students gain the freedom to explore, to learn independently, and to share their creations, they will astound us. Consider the fact that one boy's cardboard arcade inspired thousands from around the world to create and share their own inventions.
video
Beyond cardboard boxes, think about the timeless toys that exist today -- Legos, Lincoln Logs, crayons -- and what they have in common: each provides open-ended possibilities for creation. What if we leverage our students' innate curiosity and desire to create new objects and apply it to how we choose apps for mobile devices? Rather than trying to find "an app for that," what if we seek out the empty cardboard boxes and then empower our students to maximize their potential?
Finding the Right "Box"
I once spent six weeks working on a Sketchup project with my seventh graders. Enamored by the prospect that my students could create 3D images, we reimagined scenes from the Civil War using digital artifacts from the Smithsonian to tie into their history curriculum. Seven years later, all I can tell you is that we completed a "Sketchup project."
I don't remember the learning objective, or what the students gained from the project, and after spending hours teaching myself the nuances of the program, I never touched it again. For 3D modeling, Sketchup is a powerful tool, but it only does one thing.
As teachers, we have a limited amount of time to address student needs, to ensure that they gain critical skills, and to achieve specific curriculum objectives. We need universal tools that accomplish a desired set of objectives, regardless of the device. And, more important, we need them to be empty and timeless.
Building an Empty Toolkit
My Sketchup project was doomed before it ever began because I started with a single-purpose tool. I failed to define what I wanted my students to learn, and then forced them into a prescribed product rather than encouraging them to think about the best way to represent their understanding. When building a toolkit of apps, the empty ones offer more possibilities.
This is the ultimate "cardboard box" app for tablets. Students can type, draw, write, record audio, create video, tell stories, and annotate documents. In a high school English class, students might screencast peer feedback, while in an elementary math station, they could illustrate their thinking. Science teachers might incorporate Explain Everything to annotate videos of lab experiments, and foreign language students could practice their vocabulary by creating animated images. This young student took us on a "Journey Through the Solar System" with the app:
video
Though intended as a screencasting tool, Explain Everything is equally effective as a drawing tablet, a word processing program, an audio recording studio, and a video creation device.
A blank canvas can be liberating, and not only does ThingLink allow students to choose any image as a background, but it also lets them add links, images, videos, sound, and text as hotspots on top of that picture.
Social studies students could create interactive maps. A ThingLink of the March on Washington could include digital artifacts, descriptions, and even videos of speeches. Elementary students could create mini portfolios, linking to their own drawings, stories, and poems. ThingLink could even be used to explain a process, label a diagram of the digestive system, or teach others about a piece of science equipment: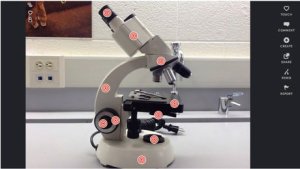 Image Credit: Elizabeth Glassman's students
Because any image can be used to start a ThingLink, and any media can be added onto one, the possibilities are endless.
Padlet (any device)
Much like children love empty boxes, teachers love empty bulletin boards. A blank board can become a gallery to display student work or a wall full of problem-solving strategies. With Padlet, teachers and students build digital boards of images, videos, links, and text.
Students could debate a topic, submit a reading response, or showcase their work. In Kristen Wideen's elementary class, Padlet helps students organize their thoughts as they begin inquiry projects. Rather than fill out paper-based KWL charts, Kristen uses Padlet to capture her students' thinking so that every child has a voice and can work at his or her own pace.
Let the Tools Become the Box
John Seely Brown describes mobile devices as "curiosity amplifiers." Given the potential for creation and exploration, these technologies provide students with a platform for exploration and knowledge construction. The challenge is to seek out the empty and timeless tools, to find the apps that give students the most options for how they demonstrate their learning. In other words, we need to let the tools become the box.