Social & Emotional Learning (SEL)
Bully Prevention: Why We Desperately Need to Invest in Home-School Partnerships
John Halligan provides us a much-needed sense of urgency to developing home-school partnerships: Saving lives.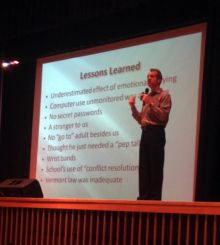 John Halligan presents his story. (Click to enlarge)
In 2003, he lost his 12-year-old son Ryan to suicide after he was bullied and cyber-bullied by his peers over a period of time. Since then, his courageous father has visited over 650 schools to speak to students, teachers, parents, lawmakers, administrators and community members. He speaks not only about the horrific events that took place on October 7, 2003, but how he and his wife tried to help Ryan along the way. Mr. Halligan speaks from the heart with hindsight on explicit details directed toward parents and school officials on what to do and what not to do during a bullying situation.
I had the opportunity to hear him speak recently. While he spoke, I listened through my principal lens. What could I learn from him? What could I take back to my students, staff and parents to make sure there wasn't another Ryan's Story to speak of at my school?
Mr. Halligan appeared to me as an engaging teacher, educating from experience to those in attendance on the symptoms and statistics of youth depression, the definitions of bullying and cyber-bullying, and a summary current laws in place to keep kids safe on the Internet. He commended several bully prevention programs, particularly giving credit to those who activated the bystander.
However, the strongest message Mr. Halligan expressed came an hour into his 90-minute presentation:
We need to take these words seriously. The partnerships that schools develop with parents before, during and after the school year must be two-way, transparent and always in the best interests of the child. Parents and teachers won't always agree with each other's input, but each distinct yet important perspective is needed to help the child move forward in the healthiest way possible. Schools and parents must be proactive. Don't wait until a bullying situation or youth depression development is in progress before developing these important partnerships. Invest in the relationships necessary to work your way through any student challenge that might arise.
As I listened, I also tweeted about the more thought-provoking ideas. See the Storify page I created, John Halligan tells Ryan's story.
The following two "Ryan's Story takeaways" were written by a parent and a teacher from the audience.
Gwen Pescatore: Parent
Dan Meyer: Teacher