Social & Emotional Learning (SEL)
How to Bring Listening Circles to Your Class
To enhance classroom culture, use a listening circle to build respect, deepen trust, and share humor. Prompt your students thoughtfully, and record your observations afterward.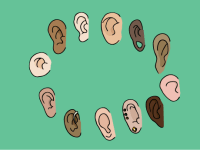 "We are ready to start Family Time!" said Nikki Street to her second grade class in a warm, assertive tone. "To transition, I want you to do three elbow greetings." Sleepy students stood up and moved around the room, linking arms and saying "good morning" to each another. After greeting their third elbow partner, students migrated to the rug and sat quietly in a circle.
Street opened the ritual of community circles: "Today, the purpose is for us to continue to have fun together, get to know each other, and laugh together." The class read the guidelines as a chorus, and Nikki paused them to repeat the third one: "Listen from the heart. People are gonna be sharing things in the circle -- sometimes serious and sometimes silly. No matter what it is, I want everyone to be listening from the heart."
Photo credit: Shane Safir
Nikki Street explains listening from the heart.
Community circles are a simple instructional routine that can transform your classroom. Used with intention, circles shape a listening culture where students practice giving attention to each other and "saying just enough" -- two essential skills for healthy relationships. For educators, this ritual keeps our finger on the pulse of student needs while helping us to orchestrate a safe, caring group dynamic.
Through her opening circle, Street sent a few powerful messages to her second grade students:
This classroom is like a family.
In this classroom, we greet one another to start our day.
In this classroom, we get to know each other through laughter and sharing.
In this classroom, we practice listening -- from the heart, no less!
As a listening educator, here are four ways that you can leverage circles.
1. Set the Tone
When opening a circle in your classroom, you hold a lot of power to set a safe, open tone for sharing. Choose a sacred talking piece that allows you to share a part of your story and to model risk-taking for students. A talking piece can be anything that has meaning for you: a picture, a rock, a stuffed animal, a shell. What matters is that you explain and personalize the object's meaning for your students and connect it to the guideline of listening from the heart to one speaker at a time. Your talking piece will create a gravitas that travels around the circle as each student holds it.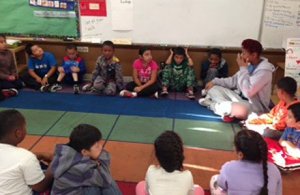 Photo credit: Shane Safir
Nikki Street facilitates a Listening Circle.
2. Plan Your Prompts
The best circle prompts evolve from low-stakes to higher-stakes, gradually inviting students to bring their experiences and identities into the classroom. Many teachers plan for three discussion rounds that start with fun or silly prompts and end with opportunities for deeper sharing. As the prompt designer, you should think about matching questions to your lesson goals and assessment of the class culture. Consider:
How close is this group?
What do and don't they know about each other?
What key idea from a text can you reinforce?
The prompts that you select should build toward those more personal moments of sharing that unify a classroom culture. Here are some sample circle prompts.
Round 1: Getting To Know Each Other
Today I'm feeling _____ (one word).
If you could be a superhero, what super powers would you choose, and why?
Round 2: Exploring Values and Identity
What touches your heart?
How would your best friend describe you?
What does respect look like to you?
Round 3: Storytelling
A time when you had a conflict with a parent or caregiver
An experience of feeling that you did not fit in
A time when you learned something that really mattered to you
3. Mirror and Affirm
You can encourage sharing and listening during circles by validating your students' hard work. A master of affirmation and precise praise, Street said mid-circle, "People are doing a great job of listening from the heart. I noticed everyone's head is moving to listen to each person." To close the circle, she issued another affirmation: "Remember we celebrate ourselves, so if you felt you were doing a great job of listening from the heart, you can celebrate yourself with a pat." Students gently patted their hearts.
4. Log Your Listening
Finally, listening educators are keenly attuned to their students' comments and non-verbal signals during circles. You are looking and listening for insight into students who may be struggling and with whom you need to have a follow-up conversation. Right after a circle, it can be helpful to jot down observation notes in a listening log to capture raw data before it sifts through your brain. Street's log could read:
Today's date:
Students responded well to the one-word feeling prompt.
Follow-up needed with J. who shared that he is feeling sad.
Learning objective met: students practiced listening from the heart.
How have you used circles to promote a listening culture? What other routines support listening in your classroom? Which of these tips speak to you, and why?