Professional Learning
Books to Read Over Winter Break
Find out what books made this educator's list and add your own essential reads.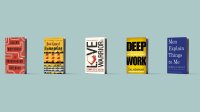 With winter break just around the corner, I wanted to share my latest favorite reads with educators and parents. This list is not education-focused; instead, it includes engaging reads that you might enjoy during some down-time. I've also included a few suggestions for your students and children. Enjoy!
This is a gripping, surreal historical novel with scenes that etch into your mind and messages that must be contemplated. Author Colson Whitehead depicts the Underground Railroad as a real, subterranean railroad system and offers us a handful of compelling and provocative characters. This is one of those books that is painful to read, but that you don't want to end because the insights you get into American history are so original.
For those of us living in a country that was built on slavery, it is a moral obligation to retrospectively witness that history and the legacy of the institution. Witnessing and informing ourselves might be a first step towards healing and justice.
Another work of historical fiction, Homegoing spans seven generations, two continents, and offers a unique perspective on the experience of African slavery. Written by Yaa Gyasi, this epic, lyrical, and haunting novel pushes the discussion about slavery in the U.S. She implicates greed and aspirations for power and lays out the role that West African tribes had in the slave trade. Although the stories she tells are devastating, there's something hopeful about what Gyasi suggests. Homegoing, like Underground Railroad, offers us portraits of the humanity of people whose stories, names, feelings, and experiences were brutally negated. We owe it to the dead and the living to read these novels.
This raw memoir, written by Glennon Doyle Melton, reads like poetry and suspense. This is a story about love, relationships, marriage, what it means to be a man and a woman in our society, and healing from pain and loss. Even if you haven't experienced the particulars of Melton's life, there's so much we can learn from how she goes about making sense of what's happened in her life—and how she develops resilience and an open heart.
This is my favorite work-related read of the fall. Written by Cal Newport, this book has pushed me to take ownership of my need to do meaningful work and own my most productive hours. If you have ambitions to do big things, or even if you want to figure out how to get more out of a regular day, read this book. (Be warned: One of his chapters is called, "Quit Social Media.") I've implemented many suggestions from this book and have found my production of "deep work"—the work that gives me the most joy and pleasure—increase tremendously.
One of my favorite writers ever, Rebecca Solnit, presents us with this contemporary feminist manifesto. Her essays are brilliantly crafted with crisp, precise prose and are sharp, funny, and scathing in a cathartic way. Solnit, who coined the term "mansplaining," uses her masterful storytelling skills to explore gender and power in refreshing ways. Solnit is a historian, activist, and writer, and she incorporates a wide range of knowledge and wisdom into her writing. (Be sure to check out her Facebook page; she shares the most interesting and enlightening articles and resources.)
This is my favorite audiobook listen of the year that caused me to shed laughing tears. This book by Amy Poehler is part memoir, stories, wisdom, poetry, and advice. Even if you're not interested in the life of a comedian, it's wonderful. If you wear headphones when you listen to this, you should probably have a note pinned to your chest so that people don't worry about you. Perhaps a note that says, "I'm listening to one of the funniest women ever." It takes a lot to make me laugh hard—and this one did just that.
The most uplifting, hopeful, inspiring, and heart-warming book I read this year is by the Dalai Lama, Desmond Tutu, and Douglas Abrams. In April 2015, Archbishop Tutu traveled to the Dalai Lama's home in Dharamsala, India, to celebrate His Holiness's eightieth birthday. Douglas Abrams, who has worked with Desmond Tutu for many years, had the challenge and honor of writing the story of that week, during which the two leaders took up the question: How do we find joy in the fact of life's inevitable suffering? Through their stories, their teachings, and Abram's beautiful and poignant descriptions of the two men and their relationship with each other, we are offered the kind of hope that some of us might feel desperate for as this year comes to a close. I savored this book and will re-read it.
Three Book Suggestions for Kids
These three children's books are worthy of adult consumption, and of course, definitely worth sharing with young people.
Master of Mindfulness: How to be Your Own Superhero in Times of Stress was written by an Oakland, CA., teacher and his fifth-grade students. This alone merits attention, and in addition, the message and content are powerful and inspiring.
Sky Color, by Peter Reynolds, is a picture book that reminds us of the power of creativity and possibility. This book might give you permission to think and act outside the box and to follow your passion. This would be a lovely gift for an adult or a child.
Lastly, in What Do You Do With An Idea?, authors Kobi Yamada and Mae Besom remind us of our power and potential if we follow our ideas, ignore those who would bring us down, and stay strong in our commitments to our dreams. This book offers a kind of expansive hope.
Please share book suggestions you have for us in the comments section below. Happy reading!