Education Trends
8 EduWins of 2013
December 20, 2013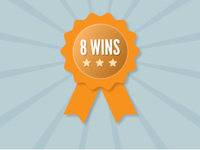 We're always hearing about how education is so messed up -- so often, the conversation focuses on all the negatives. But there are also plenty of "EduWins," too -- awesome ideas, videos, people, programs, practices, products, Tweeters, teachers, and technologies that are making a difference and changing the lives of real students on a global scale.
Indeed, as technology continues to quietly revolutionize learning, and models like project-based learning become more broadly accepted, and neuroscience deepens our understanding of how our miraculous brains actually work, it is no surprise that so much is changing in education. And -- as with any change -- there is the good and the bad.
So we asked our intrepid team of bloggers to reflect on this year's biggest eduwins, and here are their thoughts. Surely there are others! Please add your own in the comments area below.
Game-Based Learning Goes Mainstream

Games are increasingly becoming accepted as legitimate ways to learn content. Even President Obama says, "Games can make education relevant for young people!"-- Andrew Miller

Technology Integrated with Purpose

In 2013, one thing that was great for education was the slight re-balancing of technology trends. Though the growth is still exciting and explosive, there has been a shift away from technology-for-technology's-sake, to technology-for-learning. Even some Luddites making their voices heard. It was also nice to see the growth of non-Apple ecologies, specifically Google and Microsoft." -- Terry Heick

Students Speaking Up and Taking Ownership of Their Learning

THIS brilliant TEDx video by a 13-year-old. Happiness and learning -- yay! -- Rebecca Alber



video
video
New Research: The Bilingual Brain and Increased Executive Function
Neuroimaging and cognitive neuroscience have found that there is an increased executive function activation that's associated with growing up bilingual. Researchers suggest that an explanation for their findings could be the intense workout of the brain's executive function networks required for communication a duel-language environment -- the brain's machinery for interpreting each language appears to run simultaneously. For a bilingual brain to understand (and later produce) speech, it would require constant choices and intentional effort. This has strong implications for immigrating families in terms of retaining home use of their native languages. Implications also extend to the potential benefits of other very early interventions to influence the development of the neural networks of executive functions in all children. -– Judy Willis MD
A great list, but surely there were others. What were some of your favorite EduWins this year?