Teaching Strategies
Backpacks, Planners, and Binders, Oh MY!
Support students in organizing their space, time, and backpacks so that they'll perform better and develop the efficiency that will help them later in life.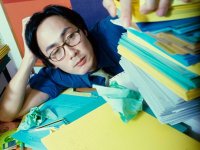 Whether you teach pre-K or high school chemistry, your students need support with and instruction on how to manage their own time and materials. Yes, we can teach them all of the content areas, we can squeeze in character education and all kinds of cultural literacy, too -- but we also need to prepare our students for how to manage their assignments, take care of their materials, and plan ahead to meet deadlines. School is a natural place to practice these essential skills!
Here are some awesome ideas to help with student time, along with stuff that I've seen in my recent travels.
Classroom Calendars
Every efficient classroom has some form of a student calendar on display, with school holidays, student birthdays, quiz and test dates, and other important information kept current. The teacher below simply uses an erasable whiteboard mounted on the wall. Another school keeps an online digital Google calendar with assignments for the entire student body. Some extremely efficient teachers also create a student syllabus using this information!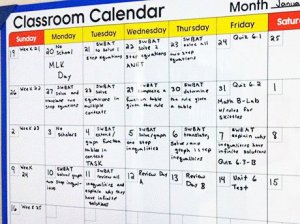 Photo credit: Maia Heyck-Merlin
Student Planners
Whether your school purchases planners for your students or you create your own handouts each week, students need to be responsible for keeping track of their own assignments. Check out this PowerPoint (3.6MB) highlighting the branded planners that Excel Academy in Boston purchases for their students and how they're directed to use them.
Student Papers
Photo credit: Maia Heyck-Merlin
Click to enlarge
Once you have a good classroom calendar in place and you've taught your students to use planners, it's time to tackle the paper beast! Whether your students are big or small, explicitly coaching them on managing their papers is essential. How many of you have emptied your own kid's backpack only to find a permission slip from months ago? (Been there!) If you have big students, you can create a binder system like Mr. Maddin's to the right (click to enlarge).
And for elementary folks, here's a simple homework folder from a school in NYC.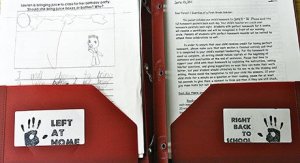 Photo credit: Maia Heyck-Merlin
Student Space
We all have those moments of students digging deep into their backpacks or desks to figure out where that one assignment could be, only to unearth potato chip crumbs, pencil stubs . . . and last year's permission slips. Even our own teacher bags may resemble our students' more closely than we care to admit!
Do your students a favor and give them examples of great set-up and organization. Devote a bit of class time for allowing them to put their stuff away carefully. Here's an example created by a high school teacher: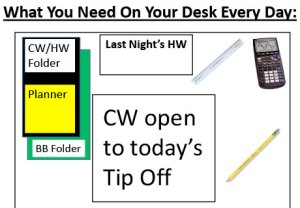 Photo credit: Maia Heyck-Merlin
Student Time
This elementary school in DC uses Tools of the Mind to teach executive functioning and self-regulation. Below, see how three- and four-year-olds planned out their playtime.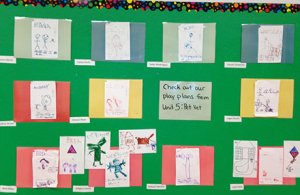 Photo credit: Maia Heyck-Merlin
And check out this planner from a high school in Newark! Not only are students copying homework assignments into it, but they're thinking ahead to exactly what work needs to be done each evening. How many times have we heard secondary students moan, "I have sooooooo much work to do"? Instead, wouldn't it be awesome if they said, "I have about 1.25 hours of homework for tonight, so I know how much free time I'll have once I'm finished"?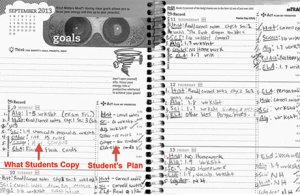 Photo credit: Maia Heyck-Merlin
Of course, none of this organization stuff works without a huge dose of the "Why, Why, Why!" Turning assignments in on time, planning in advance, and finding stuff quickly is important because, ultimately, students leave our watch and need to be able to record deadlines, plan ahead, and be organized enough to find the necessary materials for doing their jobs and living great lives. These recording, acting, and planning skills may stick with them even more than the content!
How do you teach your students about organization?