Student Engagement
Back to School: 3 Question Activities to Connect Students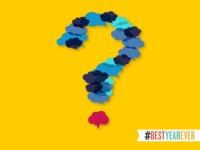 Students learn best when they feel a basic sense of safety. So there is no wiser way to begin a school year than by taking time to build your students as a caring community of learners and as a problem-solving team. Once they know one another and begin to feel comfortable and trusting, it's a lot easier for students to share their answers and questions, to help and be helped by their classmates, and to become engaged in and excited by the learning process.
Here are three sets of activities that have been used widely and well. Feel free to adapt by adding drawing or other modalities, and extending and adding to the questions in ways that make the most sense for your students.
1. Student Pairs: What's Your Name?
Knowing the names of others in your class, or any ongoing group you are part of, is basic to feeling safe and comfortable. At Responsive Classroom, they recommend using greetings to help students get to know one another better. A greeting consists of saying your name, saying a greeting phrase in English or another language, and doing something physical to greet, like a handshake, fist-bump, high-five, or bowing to one another.
After one student is greeted, the greeting is acknowledged: "Hello, Robert. Thanks for your greeting. My name is...." It can be done as a round-robin, enabling all students to participate as well as hear all of the greetings. This needs to be repeated, with variations, early in the school year to build a comfort level, particularly with students new to the group or to each other.
2. Small Groups: Who Are You?
Ask students some questions that will allow them to get to know things about their classmates. Here are some sample questions:
What kind of music do you like?
Where do members of your family come from? What languages do they, and you, speak?
What holidays do you enjoy and how do you celebrate them?
If you could travel anyplace for free, where would you like to travel? Why?
What is a place that you have visited that you like the most?
Have you ever been to a park, zoo, museum, or a farm? Pick one and tell us about it.
When is your birthday and where were you born?
What is a movie or a book you have seen or read lately that you really liked? Why?
If you could be any animal that you wanted, what would you pick? Why?
What is something you would change about this school if you could, maybe if you became the principal?
Use a timer and give them 30 to 45 seconds per student to respond. After the first round, help them learn how to keep track of time and to listen to what one another has said. Consider asking them to keep a list or find other ways to let their group mates know they are listening. Repeat more rounds over the next few days, or have kids share within subgroups of different peers.
3. Whole Class: How Many Of You...?
This is an active variation of getting-to-know you and question-asking team-builders. Ask a main question, and decide how you want the student to let you know their answer.
For example, it's best if they have to respond by doing something other than raising their hand (e.g., by standing at their seat, or holding up something that you distribute). Make the response tangible and physical. You ask a question, and all those who can answer yes stand up. After the first question is asked, invite other students (with your modeling and help) to ask follow-up questions until everyone's specific answer gets identified. You will also end up building students' vocabulary and their questioning skills.
Below are some sample main questions and some follow-up questions. Feel free to add to the follow-up list as best suits your students:
How many of you play an instrument? Which ones?
Play a sport? Which sports?
Like to read? Nonfiction? History? Fiction? Mysteries?
Like to eat dessert? What are your favorites?
Like pizza? With cheese? What kind? Other toppings?
Know a quote from a book or poem or music? Know the author or composer? Who can share an example?
Like hot (or cold) weather? Being in the sun? Being in the rain? Thunderstorms? Windy days?
Know someone with a disability? What kind of disability? What is it like to be with that person?
Have ever been part of a team? In school? Out of school? Music-related? Sports-related? What teams? What was your role?
Have ever been to a concert, play, show, or sports event? Indoors? Outdoors? What have you seen?
Thanks to my colleagues at Responsive Classroom and Passageworks for ideas and inspiration for team-building activities and starting the year off well.