Professional Learning
Approaching Racial and Cultural Sensitivity
When approaching issues of racial and cultural tension, teachers must begin by recognizing their own personal discomfort — because it does translate into their practice.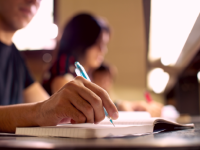 Three angry African American teenagers walk into Sal's pizza place in a pivotal scene in Spike Lee's film Do the Right Thing. One of the teens, Radio Raheem, places his boombox blasting rap music on the counter. Sal smashes the boombox, precipitating a physically violent encounter.
I stop the video and tell my students that those teens are being transferred to their class tomorrow. "How will you reach them? That's your task, to reach these kids and engage them in your class."
I give them time to write down their thoughts about what they'd do, share them in small groups, and then we have a class discussion.
Some indicate they would go out of their way to give these students special treatment. Others talk about tough love, looking for a way to establish a connection, not being overly reactive to their anger while holding them to the same standards of behavior as other students.
These are the opening moments in a workshop on racial, cultural, and social class sensitivity in a teaching intern class at San Francisco State.
I want to be clear that neither my class nor this post is about racism per se. Most of those students were glad to be teaching in culturally diverse environments. But every one of them, like me, also needed to become more aware of the subtle insensitivities and prejudices that even good liberals harbor.
Subtle Prejudice Towards African-American Males
We then watched a short scene from the film Higher Learning. Two newly-arrived freshmen at a Southern California university enter a dormitory elevator. One is an African American male. The other is a blond, very upper-middle-class-attired, young woman. She looks at him from the corner of her eyes and then places both hands firmly on her pocketbook, He sees her do this, rolls his eyes, and subtly shakes his head with a knowing smile as they emerge from the elevator.
I asked the students to describe what they saw and indicate whether any of that resonates with them. Two of my African American male students said that it happens to them all the time. I asked them to explore possible reasons for her response, and also discuss whether she would have had the same response to an African American female. Overwhelmingly they agree that, for this scene, the student had to be male.
I then shared a story. I'd recently spent time assisting, teaching, and interviewing students in Woodside High School. It's in a wealthy area south of San Francisco that has many African American students bussed in from lower-income East Palo Alto. In the class I was observing, I noticed that the female white teacher had established a close rapport with three African American girls, but that the moment two tall African American boys walked into class each day, she tensed up. She never called on them, and her behavior showed fear and discomfort. I interviewed these boys. They felt this continually. They were good kids and fit no stereotype of potential delinquents. The problem was hers, and she was unaware of how differently she responded. I worked with her to get her through that fear, learn to relax with them, and engage in some of the occasional banter she had with the girls.
Examining One's Own Prejudices and Insensitivities as a Teacher
The famed psychologist Fritz Perls wrote, "Contact is the appreciation of differences." My goal with my workshop students wasn't to help increase tolerance, but rather to develop appreciation and contact. Tolerance certainly beats intolerance. But if I just tolerate you, it's a far cry from connecting. And to work effectively with students, we need to connect to them.
On the second day of the workshop, I assigned a one- to two-page paper in which students examined their own prejudices. To model this self-reflection regarding racial, cultural, and social-class attitudes and feelings that could get in the way of their teaching, I first shared some of mine. I told them that although I had friends and/or close colleagues of different races, cultures, and sexual orientations, I was still working on my own subtle insensitivities and prejudices.
Students wrote their papers in class and shared in small groups, reading each other's work. They then discussed how these attitudes and feelings might interfere with their reaching some kids, and how they might begin to change. I believed that their new awareness would lead to change for most of these interns.
A Tale of Two Letters: Cultural and Social Class Prejudice Explored
For the final workshop exercise, I handed out a copy of a letter written by two Asian parents to the teacher of their two boys. The letter described how the parents felt their boys were being discriminated against by the teacher, ignored at times and unfairly chastised at other times. Now here's the catch: half of the letters were written in perfect English on the letterhead of a university. The other half, containing exactly the same content, were written in broken English with many grammatical and spelling errors. The interns didn't know this. The letters were loosely based on a real case and were designed by my colleague Dr. Penelope Flores.
The teacher interns then wrote a response to the parents, after which I disclosed the differences in the two letters, before having them get into small groups mixing students who had received and responded to each of the letters. They shared their responses. Before the groups dispersed, I asked them to decide if there was a difference in tone and/or content between those who had the letter from the university professor parents and those who had the letter from the less-educated, probably new immigrant, parents. In every single group, the students agreed that there was a clear difference in tone and content and that the less-educated parents had been responded to with more condescension and less respect.
The message was clear and needed no further elaboration.
To conclude the workshop I had them role-play, in groups of three, a meeting between the two parents and the teacher. My questions after the role-play were:
To what extent did the teacher begin by first listening to the parents and hearing their concerns?
To what extent were they able to take the role of the parents and really appreciate how they felt?
Was there real contact established?
Again the message was clear.
By now, the workshop's primary goals should be obvious:
Now for a moment, imagine if this type of training were required of the police in every community, not just Ferguson.
Further Exploration and the Implications Beyond the Classroom
There are many resources providing similar work with kids of all ages, but here are some of my favorites. First, English teachers might think about using the story "String Music" from The Martini Shot by George Pelecanos, a writer who really understands African-American adolescents.
Then take a look at each of these:
As an educator, how do you approach racial and cultural sensitivity issues?