Education Trends
Math Education Professor Dor Abrahamson: Making Math Meaningful (Video)
Passion and creativity can help give math a brand new image.
video
You should know right up front, I'm not a math guy. Left to my own devices, wandering the halls of just about any school, I gravitate to the social studies and art project rooms. It's not that I'm afraid of mathematics, I just like the stuff I can grab onto. Math always seemed too intangible.
Dor Abrahamson, the University of California Assistant Professor of Cognition and Development is a math guy. I met him in a Skype video chat, when, in his inimitable animated fashion, he talked me through his theories about using manipulables to teach math and the significance of embodied learning. He went on to describe new technology he's using to help students embody ratio and proportion. I was impressed, not least by the sheer kinesthetic force of his enthusiasm, though I tried to impress on him how little I understood about math. To which he responded with the following illustration, captioned: "Is this your level of mathematical competence?"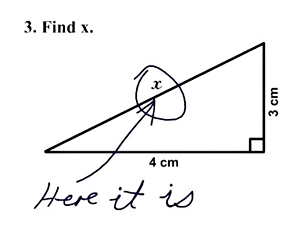 After adding sense of humor to his roster of virtues, we set up a date for him and me and the camera.
As you see in the video, Dor is more than a funny, pumped-up professor. He is onto something profound about mathematics, something truly de-mystifying, especially for give-me-something-I-can-grab-onto kids like me, tip-toeing for the first time into the mysterious world of numbers.