Literacy
The Ethics, Hurdles, and Payoff of Advising an Online Student Newspaper
Student journalism has moved into cyberspace, and online journalism advisors need deep experience in the field, as well as cultivating a climate of trust and integrity.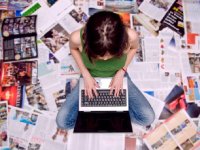 Teaching journalism students print layout is akin to teaching math students how to use an abacus. It's high time that more schools accept the death of the printed student newspaper -- not mourn its passing. Instead, we should focus all our energies on teaching students how to code, maintain a website, and use an ever-growing array of multimedia storytelling tools.
Take it from me. I'm an experienced journalist and journalism advisor who recently returned to his alma mater to advise The Gator, the student news site of Brimmer and May School in Chestnut Hill, Massachusetts. I'm aware of the new and evolving ethical issues, hurdles, and tradeoffs that come with advising -- especially in a school environment. If you're considering launching a student news site, or someone at your school is talking about it, heed my advice.
1. Hire a Journalism Teacher
That would be someone who specifically teaches journalism. An English teacher, however skilled, doesn't cut it. Good journalism demands good writing, but the profession isn't merely a subset of English. Advisors should be active in the field of journalism and know how to teach new, evolving reporting and news-writing techniques -- as well as how to assist students in building, launching, and maintaining a website. I honed those skills over the years, but I also had a strong foundation on which I could rely and build. As a practicing education reporter, I also know what I don't know, and more importantly, I know when, where, and how to get help. All of this informs my decision-making skills, and in five years of advising, I have not encountered any major mishaps in reporting or coverage.
2. Don't Give the Job to a Newbie
Along these lines, don't simply pass the journalism program over to the newest English or history teacher. Before advising a student news site, you should learn the ins and outs of the wider school community. This has played a big role in my ability to guide student coverage, including how and what to cover. Since I'm intimately familiar with my school, how it functions, and who's in charge of what, I also act as a reliable fact checker. Administrators, don't invite failure and embarrassment to your school, a new teacher, or yourselves. The internet is a permanent medium, and when it comes to journalism advising, learning on the job is a risky venture.
3. Choose a Secure Platform
In my experience, security is among the biggest concerns with launching a student news site -- more specifically, guarding against hackers and viruses. Four years ago at Palmer Trinity School in Palmetto Bay, Florida, I helped students launch The Falconer using Squarespace, whose $16-per-month plan offers great features like unlimited pages and stories, as well as 24/7 customer support. This year, in launching The Gator, I switched to Wordpress, widely regarded as the industry standard for most news sites and blogs. For $299 a year, we also enjoy access to terrific live chat support. With both platforms, your security settings are monitored and updated by a team of experts. Moreover, you have versatility and control over posting, editing, and approving content for public viewing. You may also grant editors backend privileges, like editing a story in layout before offering final approval.
4. Build a System of Trust
It's immensely important for administrators -- and the school community -- to trust that the journalism advisor will make wise decisions. I've been fortunate to work at two terrific schools that place a premium on student voice, and my students have never been outright censored. Still, I don't advise a professional newsroom. I have special considerations, including the wellbeing of those my students cover, and the wider community. When I deem it appropriate, I seek input from students, teachers, parents, and administrators about how to proceed with a story. My administration trusts my decision making, and never once have they censored or asked to review content before posting. With the speed at which content is posted, constant screening would also prove impractical. If a school isn't willing to trust a teacher with such responsibility, I wouldn't recommend launching a student news site.
5. Get Media Permission
Before launching a student news site, include an opt-out permission form in an annual spring or summer mailing, explaining to guardians that their students' names and likenesses may be used in any school publication. In the rare instance when media permission isn't granted, I sear that individual's name and face into my brain, and I tell my students to do the same. I also post a "no media permission" list in the newsroom. Of course, even if a student has media permission, it's a good idea to be considerate.
6. Treat Journalism as a Special Elective
Most schools don't let just any student take advanced courses, and the same should hold true for journalism, which, at the risk of inviting criticism, should be treated as special. A student news site reaches limitless online users, who make immediate judgments about the school based on the quality of content they view. I work tirelessly to support all the students, no matter what skills each possesses -- or lacks, as the case may sometimes be. Nonetheless, if the student doesn't desire to improve and do journalism, that student is deadweight, slows down productivity, and even more can go wrong. Bottom line: make sure that your student journalists want to participate fully and to the best of their abilities.
Please share your experiences with online student newspapers below in the comments section.