Literacy
The Back-to-School A to Z Reading Challenge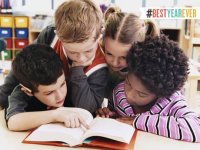 Editor's Note: Karin Schreier Hallett, Director of Library and Media at the Martin J. Gottlieb Day School in Jacksonville, Florida, is the co-author of this blog.
As we get ready to welcome our students back from summer break, one of our big-picture goals is to build a community where everyone reads, where everyone shares what they're reading, and where individual purposes and choices for reading are celebrated.
The development of literacy learning at our school is growing away from the canned curricula of basal readers and whole-class novel studies. These outdated constructs assume that students of the same age are at the same reading level, and they turn reading into a "school activity" (as opposed to a lifestyle) for many children. We want to help our students cultivate the habits of lifelong readers. We understand that each student is at a different place on the journey, and through building community and offering choice and challenge, we seek to draw each reader further along his or her path.
A Community of Readers
Instead of walking each student in a class through a prescribed series of reading material chosen by someone else, we place value on the act of reading. The pedagogy of choice literacy values deliberate practice, with the reader immersing himself in books of his own choosing and the teacher providing time to read, structure, modeling, and guidance.
It is through this lens that, along with middle school vice principal Edith Horovitz and middle school language arts teacher Stephanie Teitelbaum, we designed the A to Z Reading Challenge for grades 4-8. The challenge began over the summer and will continue through the end of the 2014-15 school year. In those grades, we have many avid readers, as well as some who are still (to borrow Donalyn Miller's term) "developing readers." We created the A to Z Reading Challenge with the following goals in mind:
To empower readers' individual interests and preferences
To build a community of readers
To promote wide reading
To challenge students to either read more in general or expand their reading to new genres

Image credit: Andrea Hernandez and Karin Hallett
Books may be read in any format (print, eBook, audio), and may be read in any order. The articles a, an, and the must be excluded from the title. For example, The Wizard of Oz by Frank L. Baum may be used for an entry under W, F, or B. Also, in recognition of the fact that it may be difficult to find books that begin with the letters Q or Z, students may read a book with any word in the title beginning with these letters. Likewise, books with the letter X anywhere in the title or author's name count as well. (The complete challenge and badge requirements are posted on Karin Hallett's Library Blog.)
Throughout the year, students will track their reading on a page they will create on their student blogfolios. For each letter of the alphabet, they will indicate title, author, date read, a one-to-five-star rating, and the book's genre.
Medals of Honor
It is our hope that, by giving students choice within structure, as well as offering them to self-select an appropriate level of challenge (with parent and teacher input), we hit the sweet spot where every student is growing as a reader. What about a missed opportunity to read a quality novel or non-fiction work carefully selected by a teacher? Because the structure of the A to Z Challenge is so open-ended, there is built-in space for teachers to add class read-alouds or other whole-class materials. The role of the teacher is that of lead reader, as well as coach and guide.
We've heard many students excitedly discussing plans to "go for the platinum," while others have expressed that the bronze challenge seems like quite enough. A few have already let us know that the platinum is too easy, and they will require something more! Some of our avid readers will be most challenged by the genre requirements. We included Caldecott Medal-winning books in the requirement to mix it up a bit and to potentially use as mentor texts in teaching writing and grammar. We also thought that including picture books might make the challenge seem more approachable for the developing readers, although we realize that Newbery Medal-winners are more appropriate for the higher-level challenges.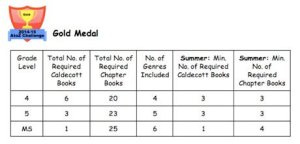 Image Credit: Andrea Hernandez & Karin Hallett
Because we strongly believe that, as teachers, we lead by example, we have challenged our faculty to participate as well. Faculty will join students in reading through the alphabet and, like students, will earn a badge for their efforts. Faculty must include at least two professional development books in order to earn the bronze medal. As part of our goal of building community, faculty reading collages will be displayed in the library.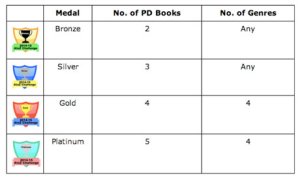 Image Credit: Andrea Hernandez & Karin Hallett
Faculty Challenge.
We are excited about the first iteration of this collaboratively designed, open-ended, year-long challenge that offers something to engage every reader. It is a work in progress and, with our goals in mind and our students' feedback, we will assess the effectiveness of this strategy and make changes to improve it going forward.
We would love to hear from you. What are some ways in which we might use this as a starting point to connect with other readers?