Family Engagement
9 Tips for Organizing Family Conferences
Steps to make family conferences welcoming and efficient include smart scheduling, sending questions in advance, keeping student materials on hand, and thinking like a parent.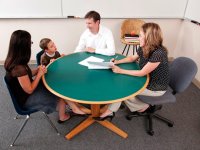 Family conferences are an essential touch point at the start of the school year. You meet students' families, share classroom expectations, and ask parents how to best partner for student success. As one teacher described it to me, "Family conferences are simultaneously the most energizing and exhausting days of the quarter!"
But without clear expectations, pre-planned discussion topics, and tight follow-up, conferences can quickly fall prey to classic pitfalls: a long line of families out your door, meeting cancellations, or forgetting a student's key strengths and areas of development. There are tons of wonderful resources available to help you think about what to discuss during the conference (I like the Flamboyan Foundation), but we also need to think about how to best prepare for these critical conversations.
Here are nine tips to help you prepare for and facilitate a great family conference:
1. Ensure that everyone is clear on its purpose.
Morgan Carter, a principal in Rhode Island, delivers a professional development session with her team to make sure that all are aligned on the conferences' goals. Without clear goals, you may end up not being prepared or blindsiding a parent. If you're unsure about your school's goals, ask your principal!
2. Put on your parent hat.
Elizabeth Simpson, a high school principal in Washington, DC, shares her team prep: "We role-play different parent calls and meetings during our 'think like a parent' pre-season session. We specifically call on our team members who are parents to give feedback about how they'd feel from a parent perspective. Having these conversations paves the way to more open communication." Whether your principal organizes practice sessions or you need to arrange your own rehearsals with colleagues, it always helps to put yourself in your parents' shoes.
3. Schedule efficiently.
Stephanie-Lee Morgan, a principal in Boston, explains her middle school's approach to conferences: "We structure conferences by advisor. Each teacher meets with ten or so families for 5-10 minutes each. The week or two before conferences, teachers meet and share important notes on students with the advisor. They track these, as well as the notes from the conferences themselves, on a Google Doc so that everyone can access the information." An alternative is the "speed-dating" approach described by Nilda Soloman, a Brooklyn middle school leader: "An entire grade team sits in one room at different stations. Families take a number, and there is a rotation across each station lasting 3-5 minutes each. This means families need to wait in only one place and are likely to meet with many more teachers. It's a lot easier logistically than having families roam to individual classrooms." And Mekia Love, a Washington, DC elementary school principal, polls families for their time preferences -- while not guaranteeing the slot.
If your school leaves the scheduling to you and if your families have technology access, you could also try tools like Doodle. Meghan Dunne, an instructional coach in Washington, DC, takes an extra step to ensure that families remember the appointment: "I send home a student-made invite with the decided time and then follow up with a text. I also text them a reminder on the day before or day of the conference."
4. If appropriate, send questions in advance.
Many teachers that I interviewed cited this survey from the Flamboyan Foundation as essential to investing families on the front end. As a parent of an elementary student myself, answering these questions would feel like an excellent use of my time.
5. Create "student snapshots" beforehand.
Sara Cotner, an executive director in Texas, supports her teachers' preparation by sharing the agenda template below. She explains, "The process of preparing for conferences with families can feel overwhelming. Teachers add their notes before sitting down for a conference, and then they continue to add to the agenda during the conversation. Teachers send home a copy of the document with the child after the conference, so the family has a record of the next steps."
6. Set up a waiting area for early arrivals.
Claire Steinbeck, a pre-K teacher in Washington, DC, creates a waiting area outside her door: "I set up books at my students' reading level, some light snacks, and/or handouts that are relevant and interesting to read, and some chairs. I also have sheets printed so parents can jot down what they want to discuss with me when we meet." This is a great alternative if the pre-work questions are not appropriate!
7. Have student materials at hand.
Amy Napleton, a first-year teacher in Minneapolis, reports, "My school holds one ten-hour-straight day of conferences. I print out each of my 100 students' grade reports and put each class in a color-coded folder so I can find them quickly. I jot down some notes directly on grade reports if there's anything I don't want to forget to tell parents. The best thing I do before conferences is reflect on the aggregated information I want from parents. I keep my laptop on the table and fill out the Google Form below so I can collect next steps in one neat place and follow up in the communication style that works best. I see so many parents in one day, which is awesome, but it also means that I need to be as organized as possible to actually keep track of what we talked about!"
8. Set expectations for conference length.
Nothing throws off family conferences like starting 15 minutes late! Managing time for conferences is oh-so-tricky. Claire also tells parents up front, "I have another family scheduled for a conference at _______, so we'll need to wrap up by then. If that's not enough time to address everything you want to discuss, we can definitely arrange another conference or phone call. I'm available on _______."
9. Manage your energy carefully.
Whether your family conferences are speed-dating style, all packed in one day, or spread out over two weeks, managing your energy is crucial. Keep a water bottle and healthy snacks nearby. If possible, give yourself hourly breaks to take a breath, eat a bite, stand up, and stretch.
We must get the content and tone right for our first meeting with families. But we also cannot ignore the less sexy parts of conferences -- preparation, note taking, logistics, and follow-up. When you have a plan for all this up front, you'll get so much more out of your conferences -- and so will your families!