Technology Integration
8 Tips to Power-Up Your Classroom Presentations
Last month, I attended a Back to School Night for parents, sitting through presentation after presentation by teachers, some with slides that helped make their presentation a delight to listen to, and others . . . well, that's why I'm writing this blog post.
The goal of a classroom presentation is to aid you in effectively conveying information in a way that allows students (or their parents) to remember what you said. Unfortunately, for some, the presentation becomes a crutch, and they begin to rely on the slides to tell their story, rather than to help them tell the story.
I've been creating presentations using software like PowerPoint and KeyNote for 20 years, and I've learned a lot about how to most effectively communicate. Here's what I've found.
1. Use as Many Slides as You Need
It's a common myth that better presentations use fewer slides. This is simply not the case. I once sent an education conference presentation to the organizers so they could preview it in advance of my speaking. They wrote back, concerned that my 45-minute presentation had 116 slides. I looked it over and realized they were right! I revised it and sent a presentation with 135 slides back to them. I finished my talk with 5 minutes to spare -- just enough time to take questions -- and the presentation was a huge success.
The number of slides in your presentation is irrelevant. What matters is how well your slides communicate and how much time you spend talking about each slide. Spending five minutes on five slides will almost always be more engaging to your students than spending five minutes on a single slide, even when the information is exactly the same.
In the movie Amadeus, the Emperor of Austria complains to Mozart that his music has "too many notes." Mozart responds, "There are just as many notes as are required. Neither more nor less." Use as many slides as you need to make your point. No more. No less.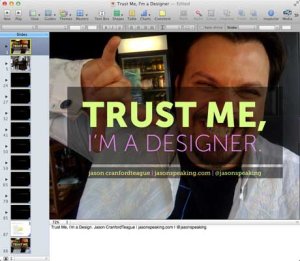 Credit: Jason Cranford Teague
Figure 1. There are almost 90 slides for 'Trust Me, I'm A Designer,' but it only takes me about 45 minutes to deliver it.
2. Minimize Verbosity
Your slides are there to support what you are saying, not to say it for you. Keep your word count low, and only place one main point on a slide, plus three to five sub-points if absolutely needed. Remember tip #1 above -- don't be afraid to use more slides. They're free! Also, the language in your slides doesn't need to be in complete sentences. Pare the text to as few words as possible, using what's there only to emphasize and reinforce -- not replace -- the words coming out of your mouth.
Credit: Jason Cranford Teague
Figure 2. Your students will remember more when they have to read fewer words.
3. Maximize Visuals
Photos, figures and icons work as visual memory triggers. They help your students remember what it is you're saying. Any time you can add a visual that helps illustrate or reinforce the points you're making in your slides, you should use it. One great way to do this on the cheap is to use public domain or creative commons photos you can find on Flickr or Google.
4. Reduce Noise
Many teachers like to add banners, headers, footers, page numbers and more noise to their slides. Unless the information needs to be on every slide for a vital reason (which is rare), you should remove it. All these redundant elements do is create distractions from the content of your slides. I find this to be especially true of page numbers. Imagine if a movie included a time code at the bottom, constantly reminding you how long you had been watching. All this does is serve to take the viewer out of the moment. Page numbers in slides really don't provide any useful information -- they just remind your students how long they've been watching.
5. Go BIG
Pursuant to tips #1 and #2, you're not going to win awards by cramming the most content on the fewest slides. Make text and visuals as large as you can. Not only does this make them easier to see and read, but larger images and text make a greater impact to aid memory. There's nothing wrong with filling an entire slide with a photo, and then placing text right on top. You may have to use a transparent background immediately behind the text so that it's clearly readable, but the overall effect is almost always more memorable than just some text beside an image.
Credit: The Old Adalie Plain
Figure 3. Text with image gets the point across . . .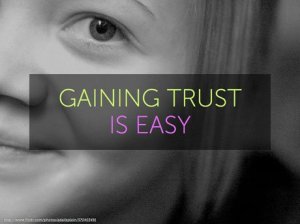 Credit: The Old Adalie Plain
Figure 4. . . .but use larger text and larger images for full impact.
6. Highlight What You Are Talking About
While you are presenting, your students may be momentarily distracted taking notes, thinking about what you are saying, glancing out the window, possibly even daydreaming. When they refocus on your slides, though, they need to quickly pick back up where you are, or you risk losing them again.
Use contrast or call-outs to clearly show the area of the slide you are talking about.
Reveal bullet points or table rows one at a time so that the last one visible is the one you are talking about.
Use arrows, circles or other pointers to show what you are referencing in specific parts of an illustration, photo or graph.
Animate and reveal parts of illustrations and graphs (where possible) to build your story rather than showing everything at once.
Use bold type or different colors to highlight the keywords in any lengthy text.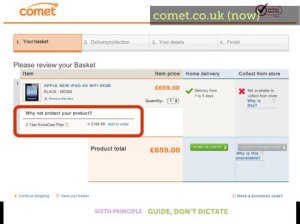 Credit: Jason Cranford Teague
Figure 5. I'm using a red box to highlight what I'm talking about in the image.
7. Transition Changes
Humans suffer from an affliction called change blindness -- we have a hard time seeing changes unless there is a clear transition between the states. This is especially a problem in presentations where slides may look very much alike. Most programs include transitions that can be used between slides or on elements in the slides themselves.
My favorite transition is the cross-dissolve -- where the first slide fades down while the next slide fades up -- but different transitions can help illustrate points in your presentation. Are you talking about combustion or the fire of London? Use a flame transition. Talking about photography or Hollywood movies? Use the flashbulb transition. Even "cheesy" transitions help overcome change blindness and aid student memory at the same time.
8. Repeat Yourself Redundantly
It's OK to repeat the same slide more than once -- especially when using images -- if you are reminding students of an earlier point. Obviously, this is not a license to be monotonous. However, if you want to tie separate ideas together, emphasize a point or splash in a little comic relief, it's perfectly fine to repeat a slide.
Bonus Tip: Make it Funny!
There's little doubt that emotional responses can aid memory. While it can be difficult to apply this power in a classroom slide presentation, humor is easy enough, and adding a bit of levity to your presentations at the right points can work to give students vital memory hooks.
Last Word
Remember, the point of presentation slides is not to replace you as the teacher, but to help your students understand and remember what you are teaching. Overwhelming them with too much information can be just as harmful as underwhelming them with too little.